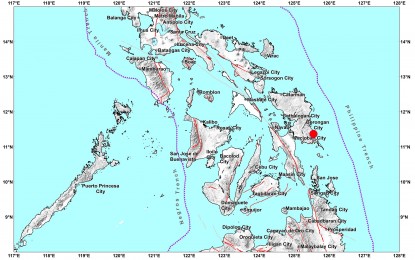 TACLOBAN CITY – The Philippine Institute of Volcanology and Seismology (Phivolcs) has allayed public fear of regular movements of fault lines in Eastern Visayas, saying the phenomenon prevents future strong ground shakings.
Faults in Eastern Visayas are active and have been moving at least monthly, according to Myra Dolina, Philvocs Leyte science research analyst, in a phone interview Tuesday.
"This is normal since the fault line is active. It's good that we feel the minor ground shaking since the fault line releases its energy. We are worried if there's no seismic events in the region for a month," Dolina told the Philippine News Agency (PNA).
The official made the explanation after a magnitude 5.1 earthquake that shook Eastern Samar early Tuesday morning.
The quake, with a depth of 57 kilometers, occurred at 1:10 a.m. in General Macarthur town.
Intensity V was recorded in General Macarthur, Hernani, and Quinapondan, Eastern Samar; Pastrana, Palo, and Tacloban City, Leyte.
Magnitude measures the energy released from the source of the quake while intensity measures the strength of shaking produced by the earthquake at a certain location.
Dolina said there was no expected damage from the recent earthquake as reported by different municipal police stations to their office.
From July 25 to August 1, earthquakes have been recorded in Hernani, Eastern Samar (magnitude 2.3); San Juan, Southern Leyte (magnitude 2.1); Hinunangan, Southern Leyte (magnitude 2.1); Saint Bernard, Southern Leyte (magnitude 3.1); Mapanas, Northern Samar (magnitude 2.8).
Other seismic events were also detected in San Policarpo, Eastern Samar (magnitude 2.7); Sulat, Eastern Samar (magnitude 2.3); San Julian, Eastern Samar (magnitude 2.9); Macrohon, Southern Leyte (magnitude 1.8); and Dolores, Eastern Samar (magnitude 4.6).
Dolina said the strongest quake in the area this year was magnitude 5.3 on March 21 in Burauen, Leyte. The same fault moved on July 15 with a magnitude of 4.2.
The mountain portion of Burauen town is within the Leyte Island fault which forms part of the 1,200-km.-long Philippine fault zone, a major tectonic feature that transects the whole Philippine archipelago from northwestern Luzon to southeastern Mindanao. (PNA)