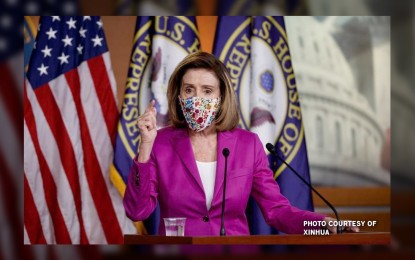 MANILA – The Philippine government on Tuesday appealed to the United States and China to be "responsible actors" in the region amid heightened tensions over the supposed visit of US House of Representatives Speaker Nancy Pelosi to Taiwan.
The statement came amid reports that Pelosi, who has not confirmed that she plans to visit Taiwan, would proceed with the trip without prior announcement.
"The Philippines is closely monitoring developments in this regard. It is important for the US and China to ensure continuing communication to avoid miscalculation and further escalation of tensions," DFA spokesperson Ma. Teresita Daza said in a text message to reporters.
"We trust that China and the United States will be responsible actors in the region," she added.
Pelosi is leading a Congressional delegation to Singapore, Malaysia, South Korea, and Japan to reaffirm Washington DC's "unshakeable commitment to our allies and friends" in the region.
Other than reports citing anonymous sources, her trip to Taiwan has yet to be officially confirmed.
The US and the Philippines, like many other states, adhere to the so-called "one-China Policy" in dealing with China and Taiwan.
Under this policy, countries recognize the People's Republic of China as the only Chinese government.
On August 1, the Chinese Foreign Ministry said Pelosi's visit to Taiwan would "constitute a gross interference in China's internal affairs" and "severely undermine China-US relations and lead to a very serious situation and grave consequences".
It issued a stern warning that "the Chinese side is fully prepared for any eventuality and that the People's Liberation Army of China will never sit idly by, and we will make resolute responses and take strong countermeasures to uphold China's sovereignty and territorial integrity."
The US warned China not to respond with military provocations even as its officials reassured Beijing that such a visit would neither be the first of its kind nor represent any change in policy toward the region. (PNA)