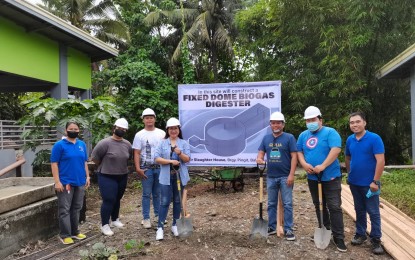 CITY OF SAN FERNANDO, Pampanga – A fixed dome biogas digester will be built in the municipal abattoir of Baler, Aurora.
The project worth PHP444,000 will be funded by the Department of Science and Technology (DOST) under its regional grants-in-aid program.
Aurora Provincial Science Technology Director Maricel Sicat said in a statement on Tuesday the biogas digester will lessen dependence on conventional energy, like liquefied petroleum gas, and for consumers to reduce the problem of ecological solid waste management.
The biogas digester has a loading capacity of 20 cubic meters.
The manure generated from the holding cells of large ruminants and pigs will be loaded into the digester.
Through the process of anaerobic fermentation, the wastes will produce biogas, a colorless, odorless gas composed primarily of methane and carbon dioxide.
Biogas is a naturally occurring renewable energy source, resulting from the breakdown of organic materials in an oxygen-free environment.
It can be used in fuel cells and for any heating purpose, such as cooking. It can also be used in a gas engine to convert energy into electricity and heat.
Meanwhile, the DOST, through the Science and Technology Information Institute and the Zambales Provincial Science and Technology Center, completed the installation of Science and Technology Academic and Research-Based Openly Operated Kiosks or STARBOOKS in 22 schools in Castillejos, Zambales.
STARBOOKS contains hundreds of thousands of digitized science and technology resources in various formats (text and video/audio).
The school beneficiaries included Looc Integrated School, President Ramon F. Magsaysay Elementary School, Castillejos Resettlement High School, V. Gallardo Elementary School, Balaybay Resettlement Elementary School, San Agustin High School, Balaybay Elementary School, Castillejos Elementary School, San Agustin Elementary School, Kanaynayan Elementary School, and Del Pilar Elementary School, among others. (PNA)