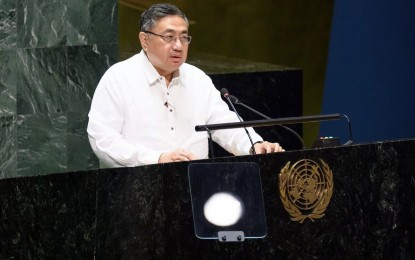 MANILA – The Philippine government on Tuesday urged nuclear-armed states to accede "without delay" to all treaties that establish regions, including Southeast Asia, as nuclear weapons-free zones.
There are five treaties involved in nuclear weapon-free zones, including the Bangkok Treaty that was signed by the 10 Association of Southeast Asian Nation member states in 1995.
The Bangkok Treaty, like the four other agreements covering Africa, South Pacific, Central Asia, Latin America and the Caribbean, refrains the 10 Asean states from allowing any other nations to station, test, use, or manufacture nuclear weapons in their territories, declaring Southeast Asia a nuclear-free zone.
Speaking on behalf of the Philippines, Foreign Affairs Undersecretary Carlos Sorreta at the 10th Review Conference of the Nuclear Non-Proliferation Treaty (NPT) in New York said the responsibility to rid the world of nuclear weapons rests on the shoulders of nuke-armed states.
He stressed that nuclear weapons only pose "catastrophic humanitarian risks" and that their continued existence "imperils us all".
"They are repugnant to global public conscience, and have since been outlawed by the [NPT]," Sorreta said.
"The onus to rid the world of nuclear weapons remains on the shoulders of Nuclear Weapon States. They must make meaningful progress to reduce and eliminate all types of nuclear weapons in a transparent manner, and to further diminish the role of such weapons in their military and security concepts, doctrines, or policies," he added.
While there are also efforts toward nuclear risk reduction, Sorreta said this alone is "not a means to legitimize nuclear weapons' continued existence or as a substitute to nuclear disarmament."
He said nuclear-armed states must adhere to the highest standards of non-proliferation as non-nuclear weapon states do.
"They must, without delay, undertake effective, universal, unconditional, non-discriminatory, irrevocable, and legally-binding negative security assurances (NSAs) to Non-Nuclear Weapon States."
In the same speech, Sorreta reaffirmed Manila's commitment to the NPT.
"Our commitment to this Treaty emanates from my people's aspiration to achieve freedom from the threat of nuclear weapons and forge a path to sustainable development that includes harnessing the potential of nuclear energy," he said.
According to the Stockholm International Peace Research Institute (SIPRI), nine states-- Russia, United States, United Kingdom, France, China, India, Pakistan, Israel, and North Korea-- possess approximately 12,705 nuclear weapons as of 2022.
Of this number, at least 3,732 were "estimated to be deployed with operational forces" while around 2,000 were "kept in a state of high operational alert," its 2022 yearbook said.
Russia, the US, UK, France, and China are parties to the NPT, North Korea withdrew in 2003, while the rest of the nine did not sign the treaty. (PNA)