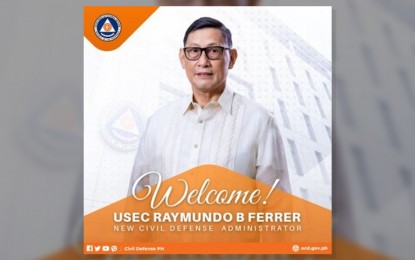 MANILA – Retired general Raymundo Ferrer on Tuesday took his oath as the new administrator of the Office of Civil Defense (OCD).
"I wish to inform you all that our new Civil Defense Administrator, Usec. (Undersecretary) Raymundo B. Ferrer has already taken his oath of office this morning at the DND (Department of National Defense) His oath was administered by DND OIC (officer-in-charge) Senior Usec. Jose Faustino Jr.," said National Disaster Risk Reduction and Management Council (NDRRMC) spokesperson Mark Cashean Timbal in a message to reporters.
Ferrer brings to OCD his vast experience in emergency operations as a former military official and a management specialist.
"He assumes office today as OCD continues to manage the impact of the Abra earthquake. He will hit the ground running and attend to all the functions of a Civil Defense administrator and as executive director of the NDRRMC," Timbal said.
Ferrer held many senior command positions during his time with the Armed Forces of the Philippines (AFP).
He served as chief of the Zamboanga City-based Western Mindanao Command before his retirement in 2012.
He also headed the Eastern Mindanao Command from January 2009 to November 2011; 6th Infantry Division from March 2007 to January 2009 and the 1st Infantry Division from September 2006 to March 2007.
The NDRRMC, meanwhile, thanked Jalad for his service.
"Through his guiding hand tempered by compassionate and exemplary wisdom, OCD was able to advance as the country's premier disaster management agency. Mabuhay po kayo, CDA (Civil Defense Administrator) Emeritus, Usec. Ricardo B. Jalad!" Timbal added.
On Wednesday, Jalad thanked the media for their support which helped the OCD carry out its mandate.
"And for all those, I owe everyone a great debt of gratitude. It's my hope that you all carry out the same support and advocacy on our public information on DRRM. God bless everyone!" he said in a statement. (PNA)