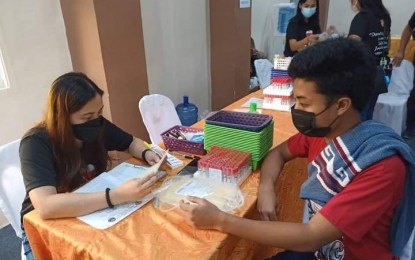 BACOLOD CITY – The Negros Occidental provincial government is stepping up its bloodletting campaign amid the threat of dengue and following a notable decrease in local blood donations in the past two years due to the coronavirus disease 2019 (Covid-19) pandemic.
Governor Eugenio Jose Lacson underscored the need to ensure sufficient blood supply for Negrenses in the wake of the increasing dengue cases in the province, during the event marking the National Blood Donors' Month and staging of the Blood Olympics 2022 at the Negros Residences here on Tuesday.
"Right now, we are faced with the dengue scare. As of today, Negros Occidental has a high number of dengue cases. Given this scenario, the question is 'do we have ample blood supply in case there is a heightened need for blood transfusion among dengue patients?" Lacson said.
For dengue cases, Negros Occidental logged 2,747, from January 1 to July 23, 2022.
This is 941 percent higher than the 264 cases recorded during the same period in 2021, the latest dengue update released by the Department of Health-Western Visayas on Monday showed.
The governor clarified though that dengue is just among the many situations where blood is needed.
He noted that National Blood Donors' Month is being observed to remind everyone that blood is life, and engaging donors remains to be the lifeline to provide for those in dire need.
"And while the need for blood is universal, access to blood for those who need it, is not," Lacson said as he urged the blood service facilities, health offices, local government units, and other stakeholders to continue and deepen the campaign for blood donation.
"I appeal to everyone that we do, not just our best, but what is necessary to meet this need because once disaster strikes, our chance to prepare and be ready has already slipped from our hands and we don't want that to happen," the governor said.
In Negros Occidental, blood service facilities include the Negros First Provincial Blood Center, Corazon Locsin Montelibano Memorial Regional Hospital, and the Philippine Red Cross Negros Occidental-Bacolod City Chapter. (PNA)