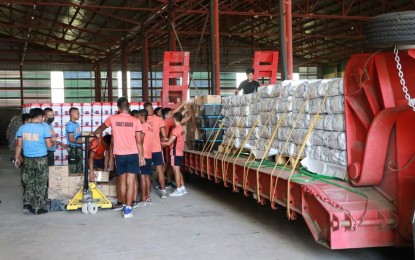 SAN FERNANDO CITY, La Union – The Department of Social Welfare and Development (DSWD) and the Department of Public Works and Highways (DPWH) Ilocos regional offices have extended food packs and hygiene kits to earthquake-hit areas in the Ilocos Region and Cordillera Administrative Region (CAR).
In a report Tuesday, the DSWD Ilocos said it has already released 13,604 family food packs as of Tuesday noon.
Of the total number, 12,500 were delivered to CAR; and 200 to the evacuation center in Burgos town; 335 to Vigan City; 275 to San Emilio town; and 294 to Bantay town; all in Ilocos Sur.
Some 275 hygiene kits and 87 family tents were provided to families in San Emilio town, and 147 hygiene kits and 10 sleeping kits to families in Bantay town.
The agency also received 1,000 shelter tarpaulins from the International Organization for Migration which were turned over to the province of Ilocos Sur.
Some 650 family food packs will be delivered to DSWD CAR, particularly to Kibungan, Benguet province, as augmentation.
"Ongoing production of family food packs at the DSWD regional warehouse with the help of community volunteers from Barangay Bato (in) San Fernando City and additional manpower from the Philippine National Police and Philippine Coast Guard," it said.
In a statement, DPWH Ilocos information officer Esperanza Tinaza said the agency continuously commits to provide essential services through its manpower and equipment to DSWD in the distribution of relief packs to the earthquake-affected communities.
"Trailer trucks of DPWH Ilocos regional office and Pangasinan third District Engineering Office delivered 5,950 family food packs to Bangued, Abra. Power trucks and dump trucks not affected also hauled food and non-food Items to earthquake-stricken areas in the Ilocos Region," she said.
As of August 2, DSWD Ilocos said there are 29,584 families affected by the earthquake in the four provinces of the Ilocos Region.
There are 5,119 partially damaged houses and 116 totally damaged houses with one recorded death and 18 injured.
There are also 61 displaced families inside evacuation centers and six displaced families outside the evacuation centers.
A magnitude 7 earthquake jolted the entire northern Luzon on July 27. (PNA)