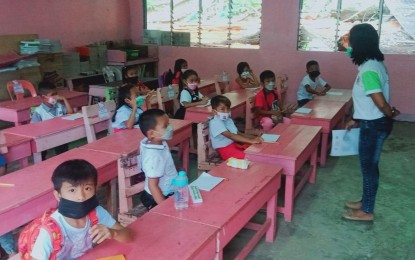 DUMAGUETE CITY – The Department of Education (DepEd) here is expecting an increase in the number of basic education enrollees for School Year 2022-2023 as the country gears up for the return of face-to-face classes.
Dr. Gregorio Cyrus Elejorde, DepEd-Dumaguete division of schools superintendent, said Tuesday they expect a higher number of learners after a two-year hiatus of in-person classes, as modular and home-based education was adopted during the coronavirus disease 2019 (Covid-19) pandemic.
"At the height of the pandemic, many learners dropped out of school due to their families' loss of jobs or other sources of income," Elejorde said, although he could not give an exact figure.
The private schools were also badly affected as many of their students either transferred to public schools or returned to their hometowns due to the lockdowns, he added.
With the opening of classes set by the DepEd on August 23, the city schools division here is optimistic that more learners in the elementary, junior high, and senior high schools would enroll.
Before the pandemic, public schools here had about 25,000 enrollees while private schools tallied about 15,000 students, Elejorde said.
Meanwhile, public schools in this capital city have put up kiosks or assistance desks to assist parents or learners in online enrollment for those who do not have access to gadgets or the Internet.
Elejorde noted that schools are no longer accepting manual enrolment to cut down on the processes as the majority of the students' data have already been encoded for the teachers' easy access.
He said online enrollment would also limit people's exposure to Covid-19.
He reiterated that in-person classes would be gradually introduced at the start of the academic year, but would hopefully become full swing by November, as targeted by the DepEd. (PNA)