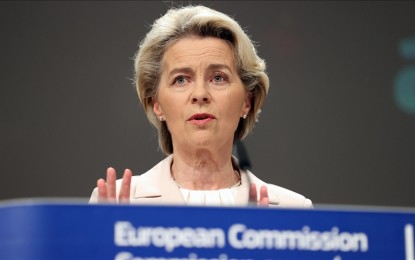 BRUSSELS – EU Commission chief Ursula von der Leyen warned on Monday that the bloc needs to prepare for the "worst scenario" when it comes to Russian gas supply over the winter.
"We must all be prepared for the worst situation with gas," von der Leyen said in an interview with Spanish daily El Mundo.
She said Russian moves were alarming since Moscow had already restricted gas supply to 12 EU member states in retaliation for the sanctions that the bloc has introduced over the war in Ukraine.
Von der Leyen called last week's agreement on voluntarily reducing the bloc's gas demand by 15 percent a "decisive and unprecedented step to counter (Russian President Vladimir) Putin's threat to cut gas deliveries completely."
She said despite the initial opposition of certain member states, including Spain, the decision "was about European solidarity."
Following the European Commission's proposal, EU energy ministers agreed last week to voluntarily cut gas consumption by 15 percent between August and March.
According to the EU executive body's calculations, the preemptive reduction will allow member states to fill up their underground gas storage and survive the winter without major disruptions even if Russia stops the supply.
The EU has slapped seven sets of sanctions against Russia since Moscow launched a war on Ukraine on February 24.
The packages target, among others, Russian President Putin and Foreign Minister Sergey Lavrov, ban gold, oil, and coal imports, and the export of luxury goods, as well as exclude Russian and Belarusian banks from using the Society for Worldwide Interbank Financial Telecommunication (SWIFT) international payment system. (Anadolu)