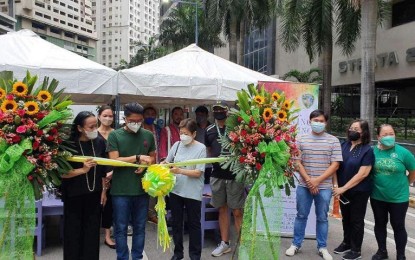 MANILA – Having in mind the therapeutic and calming effects of art creation, especially nowadays when many people have to fight pandemic-related stress, a barangay in Pasig launched on July 30 the "Sining Galing" monthly art lesson/workshop for residents.
Barangay San Antonio (BSA), Pasig chairman Raymond U. Lising has been hands-on in pushing for the barangay's newest initiative to bring the community closer and provide mental wellness initiatives amid the trying times.
The program, which showcases Filipino artists' talents aimed at creating awareness of the different forms of art, is spearheaded by the barangay committee on tourism led by Councilor Venus La Putt through a collaboration with other stakeholders, civic society organizations, and community members of the barangay.
Sining Galing is held every last Saturday of the month.
Volunteer artists give free art lessons/workshops to the participants, Lising said in a news release issued on Tuesday.
"We were inspired to add a new attraction to the People's Street (Carless Weekend) at Emerald Avenue. We wanted something that has aspects of tourism, culture, and arts. Something that would involve all ages, resident or not of BSA," he added.
BSA leaders recognize the impact of art on one's mental health and personal development, as well as on the bond it could create among the participants.
"Learning art is known to be therapeutic, can help with mental wellness, discovering one's untapped talent, or just plainly finding a new hobby that is beneficial to one's own personal development," Lising noted. "This program also aims to bring the community closer together, which is the true essence of a 'barangay'."
Moreover, the barangay chairman believes that the Sining Galing program not only promotes art and supports Filipino artists but also gives every participant a breather amid the chaos brought about by the pandemic and the ongoing crisis.
"Art, in general, is good. It is a worthwhile hobby. It can contribute to mental wellness and personal development, which we all need in this time of chaos brought about by the pandemic," Lising said. (PR)