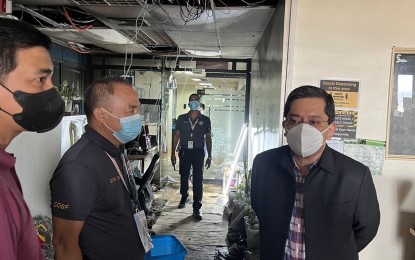 MANILA – Employees of the Commission on Elections (Comelec) whose offices and departments were affected by the fire at the poll body's main office will remain under a work-from-home scheme on Wednesday.
"Chairman (George) Garcia recommended to the Executive Director the continuation of the work-from-home status tomorrow, August 3, 2022, of all officials and employees whose offices and departments were directly affected by the current situation, strictly maintaining a skeleton workforce to ensure the unimpeded operational and administrative functions of the Commission," Comelec acting spokesperson John Rex Laudiangco said in a statement Tuesday.
This came after Garcia inspected the reception area of the Comelec's Information Technology Department (ITD) at the seventh floor of the Palacio del Gobernador Building in Intramuros, Manila, which was gutted by a fire on Sunday night.
"This recommendation was likewise given in particular humanitarian consideration of the elderly, senior citizens, persons with disability, heavily pregnant and other vulnerable sectors inclusively employed by the Comelec, who all require elevator services which have yet to be made operational at this time," Laudiangco said.
He said Garcia also inspected the Comelec annex building which houses the Election Records and Statistics Department (ERSD), Health Services Division (Clinic), and Cash Division.
Garcia wants to undertake several improvements to improve occupational health and safety and make the Comelec main office more accessible to the public, Laudiangco said.
"Chairman Garcia likewise bared plans to have dedicated media representatives' presence to amplify his transparency and credibility policies, and additionally improve ITD premises to international industry standards. Plans are already underway for his policy directions, which will focus on full compliance to and implementation of election laws and other pertinent statutes and rules governing civil service, enhancement of Comelec's public service through meaningful reforms that will resolve issues identified by stakeholders and the voting public, bringing even closer the Commission and its services to the people," he said.
He added that these also include structural reforms that will "strengthen good governance founded on accountability, transparency, and integrity, enhancement of people's participation and experiences in meaningful, inclusive and credible electoral exercises with dignity and integrity."
Laudiangco, meanwhile, said the Comelec en banc on Tuesday received Garcia's appointment papers.
He said the new chief is also ready to work hand-in-hand with the other members of the Commission -- Commissioners Socorro Inting, Marlon Casquejo, Aimee Ferolino and Rey Bulay.
Meanwhile, the National Movement for Free Elections (Namfrel) and the Legal Network for Truthful Elections (Lente) said they are looking forward to working with the Comelec under the leadership of the veteran election lawyer.
"It is a welcome appointment as this allows continuity and resumes the work he started when he was first appointed as commissioner. It will be a boost to electoral reform to be done," Namfrel Secretary General Eric Alvia said in a statement.
Lente executive director Rona Caritos expressed hope that Garcia will continue the programs that he started when he was named as poll body commissioner by former President Rodrigo Duterte.
On Monday, President Ferdinand "Bongbong" Marcos Jr. named Garcia as chairperson of the poll body.
Garcia, his predecessor Saidamen Pangarungan, and former Commissioner Aimee Neri, were bypassed by the Commission on Appointments last June.
He will serve a seven-year term as Comelec chief until Feb. 2, 2029. (PNA)