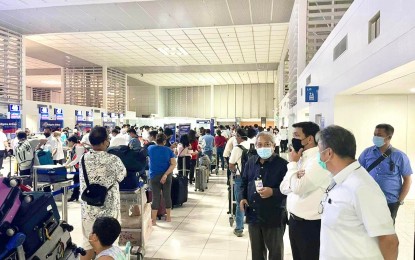 MANILA – Transportation Secretary Jaime Bautista has recommended several improvements aimed at providing a better travel experience for passengers after a surprise inspection of the Ninoy Aquino International Airport (NAIA) Terminal 2 on Monday.
In a Facebook post on Tuesday, the Department of Transportation (DOTr) said Bautista interacted with passengers and airport staff during peak hours.
"[Bautista] inspected the check-in, security check and pre-departure areas as well as boarding gates while hundreds of outbound passengers lined up for health and security checks prior to their flights," it said.
Following his conversations with passengers and staff, Bautista found that there was a lack of basic amenities in comfort rooms, adequate lighting and air-conditioning in the pre-departure area, and reliable free internet connection.
"A couple of elderly passengers waiting to board their flight for Los Angeles told the Secretary they were anxious about crowding at the terminal, worried of possible exposure to Covid-19 infection," it said.
He noted that comfort rooms were "properly maintained" and spoke with Bureau of Quarantine staff at health check counters.
After his inspection, Bautista discussed possible improvements with Manila International Airport Authority (MIAA) General Manager Cesar Chiong and Philippine Airlines (PAL) assistant vice president for airport operations Alfred Adriano.
"He also discussed with Chiong the limited available boarding gates that hampered the number of flights that could be operated at the terminal," it said.
Since the start of the Marcos administration in July, Bautista and other DOTr officials visited several transport facilities such as the MRT-3 and the EDSA Busway for a surprise inspection to find out first-hand the state of the country's mass transportation system.
Bautista also visited line agencies of the DOTr as part of his tour of the country's transportation system. (PNA)