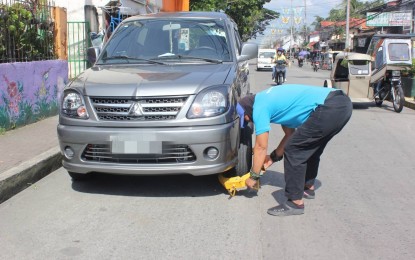 MANILA – A lawmaker wants to require motor vehicle buyers in metropolitan areas to have their own garage or parking space as a prerequisite for the purchase to reduce traffic congestion and ensure uncluttered pathways.
Marinduque Rep. Lord Allan Velasco filed House Bill 31, otherwise known as the proposed No Garage, No Registration Act, which would also require the Land Transportation Office to verify the document submitted by the registrant or purchaser attesting to the existence of an adequate parking facility for the vehicle.
Velasco cited studies showing that the number of privately-owned cars on the road has exponentially multiplied while the road networks, particularly in the metropolitan areas, did not grow as much.
"Ownership of private cars grew as a result of a combination of fast economic growth, rising incomes, low down payments, and cheap auto loans. Hence, private cars are easy to own and cheap to use," Velasco said.
He said traffic congestion is worsened by car owners who routinely use public roads as parking spaces.
"When roads become parking lots, there will be longer trip times and increased vehicular queuing," he said.
Under Velasco's proposal, car buyers in metropolitan areas shall be required to execute an affidavit, which shall be acknowledged before a notary public, attesting to the availability of a permanent parking space or facility or that a parking space or facility has been leased or procured for the motor vehicle.
The affidavit executed by the prospective buyer of motor vehicles shall be presented to the Land Transportation Office (LTO) as a prerequisite for registration.
The bill states that any concerned individual may report to the LTO, Metropolitan Manila Development Authority, the metropolitan coordinating council, or the engineering office of the local government unit, the existence of motor vehicles which are parked on the streets, alleys, or pathways primarily used for pedestrian and motor vehicle traffic.
A motor vehicle registration that has been fraudulently obtained from the LTO by making untrue claims in the public document shall be revoked, and the motor vehicle owner shall be suspended from registering a motor vehicle under his name for three years and imposed a fine in the amount of PHP50,000 for every violation of the provisions of the proposed law.
Any officer or employee of the LTO who has allowed the registration of a motor vehicle without the necessary document, or with the knowledge of the falsity, or failing to further investigate despite having reasonable grounds to believe that the document is false, shall be suspended from office for three months without pay.
The bill covers these 12 metropolitan areas: Metro Manila, Angeles, Bacolod, Baguio, Batangas, Cagayan de Oro, Cebu, Dagupan, Davao, Iloilo, Naga, and Olongapo. (PNA)