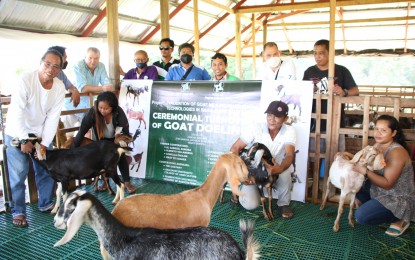 DUMAGUETE CITY – Unlike other farmers who raise goats for their meat, a project being introduced in Zamboanguita, Negros Oriental aims to train breeders on producing milk and dairy products instead.
Engr. Gilbert Arbon, provincial science and technology director of the Department of Science and Technology (DOST) in Negros Oriental, on Tuesday said goat milk production is a research project of the Philippine Council for Agriculture, Aquatic and Natural Resources Research and Development (PCAARRD).
The PCAARRD and the DOST in the province provide training and technology transfer to the farmer-beneficiaries, and experts on livestock, and monitor their accomplishments to ensure a successful implementation.
Arbon said they turned over last week 40 Anglo Nubian goat "doelings" to eight farmer cooperators in Zamboanguita to start up the dairy goat breeding project.
They were selected based on certain criteria, such as their farm being located in an area with access to water, having a forage garden, and they should be able to grow their own feeds for the goats such as grasses and legumes.
"The intention here is to encourage goat farmers to raise these animals for their milk, which can also be used for dairy products, with a growing demand for it in the local market," he said.
A foreigner who is in the cheese and dairy business here has shown interest in buying the milk from the farmers once the goats have reached the stage of producing milk.
The project cost is PHP4 million and shall be implemented in two years, Arbon said.
Since it is a research project, the beneficiaries are limited but the DOST official is hopeful that with a successful outcome, this may be introduced to the local government units and to the Department of Agriculture.
He said this is one way of supporting President Ferdinand Marcos, Jr.'s pronouncement during his recent State-of-the-Nation Address on boosting the agriculture sector. (PNA)