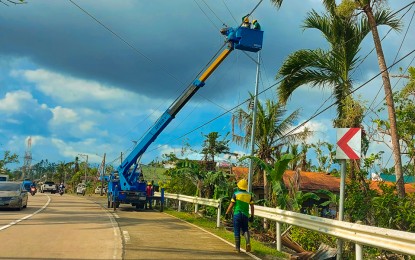 TACLOBAN CITY – Power has been fully restored in all Southern Leyte villages some 226 days after Typhoon Odette ravaged the province, a local electric cooperative reported on Wednesday.
The Southern Leyte Electric Cooperative (Soleco) completed the power restoration on July 30 as it energized the last of the 503 villages that experienced power outages after the Dec. 16, 2021 typhoon.
"Olisihan village in Bontoc town is the last community that we have energized. It was a big challenge since the area is about 20 kilometers from the highway and our linemen had to erect about 100 poles in four villages to complete the work," Soleco general manager Jonathan Empeño said.
Limited personnel and lack of materials were among the challenges in their efforts to bring back electricity in the past seven months of restoration activities, the official said.
With the full power restoration in all villages, Soleco linemen and contractors shift line rehabilitation efforts in zones, sub-villages, and remaining unenergized households affected by the typhoon.
Typhoon Odette toppled electric posts and destroyed other distribution facilities when it battered parts of Visayas and Mindanao.
The total cost of damage to Soleco facilities is estimated at PHP800 million.
Soleco is the lone electric distribution utility in Southern Leyte bringing energy to 105,787 power consumers in the province. (PNA)