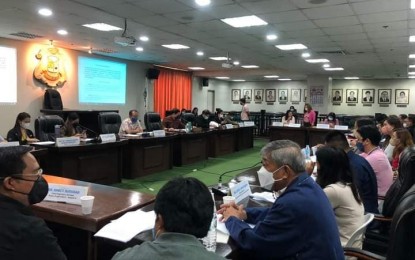 ILOILO CITY – Iloilo Province has strengthened its preventive measures against avian influenza with the passage of an ordinance imposing fines or even jail time on anyone caught bringing in poultry products from areas with bird flu cases without a shipping permit from the Bureau of Animal Industry (BAI) and other required documents.
The provincial ordinance approved on Tuesday "gave teeth" to Executive Order number 244-B issued by Governor Arthur Defensor Jr. on June 23, 2022, that temporarily banned the entry of domestic and captured wild (ornamental) birds, poultry, and poultry by-products from Luzon and Mindanao areas affected by the Highly Pathogenic Avian Influenza (HPAI) as declared by the Department of Agriculture.
"Since the governor already issued an Executive Order, we passed an ordinance to have more teeth for the province of Iloilo or Western Visayas area be protected from the HPAI," according to Board Member Rolito Cajilig, chair of the committee on agriculture at the Sangguniang Panlalawigan.
The ordinance authored by Board Member June Mondejar provides a penalty of PHP5,000 for first to third offenses but with imprisonment of five, 10, and 15 days for first, second and third and subsequent violations, respectively or depending on the discretion of the court.
The ordinance takes effect immediately upon posting and publication, Cajilig said.
In a separate interview, Provincial Veterinarian Darel Tabuada said the ordinance is a big help in the implementation of the Avian Influenza Prevention and Control Program because of its penalties and confiscation.
Before the ordinance, the governor has issued four EOs when the first case of bird flu was recorded in the country in March but without penalties.
Currently, border control is already in place in the airport and seaports in the province while checkpoints are conducted if there are suspected cases or products that need to be intercepted.
"We requested the Philippine National Police, which is a member of our task force, to include in their routine inspection the monitoring of poultry products that come in and circulate in the province," Tabuada said.
Disinfection is also being done for all poultry carriers passing through major and minor ports in Dumangas, Estancia, Ajuy, and Carles.
Tabuada said their efforts are directed towards protecting the over PHP20-billion industry in Western Visayas. (PNA)