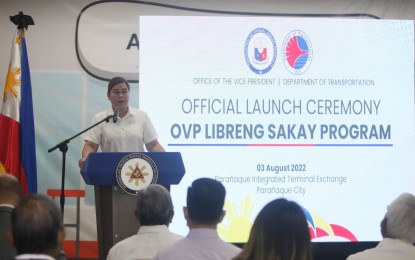 MANILA – To help ease commuters' expenses amid the pandemic, Vice President Sara Duterte led Wednesday the simultaneous launching of the Office of the Vice President (OVP) free rides, and lauded this partnership between the government and the private sector.
In her speech at Parañaque Integrated Terminal Exchange (PITX), Duterte recognized the efforts of the Department of Transportation (DOTr) and the private sector which lent the government five buses to be used in various parts of the country.
"Let me emphasize that this program is a demonstration of effective government and private sector collaboration. These buses were lent to us for OVP use but as I said, we decided that it would be more useful if they were deployed in some key areas in the country to support the Libreng Sakay of the DOTr," she said.
Two of these buses will be deployed in Metro Manila, and one each for areas in Bacolod, Cebu, and Davao.
In an ambush interview, OVP Spokesperson Reynold Munsayac explained that the DOTr will not shoulder any expense as petroleum funds will be coming from the OVP, while the salary will still be from the private companies where the bus driver and conductor work.
"Ang sagot ng OVP dito ay 'yung gasolina, 'yung repair, 'yung maintenance ng sasakyan, tapos buti na lang po 'yung gastos sa driver at konduktor ay sinagot na ng mga nagpahiram sa 'tin nung bus... wala nang obligasyon 'yung DOTr o LTFRB na babayaran, kasi kumbaga 'yung pagpapahiram ho ng office of the Vice president na ito, ng mga bus na pinahiram din sa'min, e wala ho talagang kakargahin dito sa gobyerno (The OVP will shoulder gasoline [expenses], repair, maintenance of the vehicle, gladly, the expense for driver and conductors' [salary] were already shouldered by those who lent the buses... the DOTr and LTFRB have no obligations because, in the buses lent by the OVP, which are also lent to us, the government will no longer be charged)," he said.
Christopher Cruz, 45, one of the OVP free rides bus drivers, said this kind of service is fulfilling, especially since it is his first time doing it in the span of his 12-year bus driving career.
"Siyempre, masaya, may katuwang ang bise, ang pangalawang pangulo, at ina-ano rin namin 'yung sarili namin. Katulad ngayon, sa mahal ng bilihin, sa mahal ng krudo, matutulungan ng bise-presidente, 'yung mga nagko-commute na ma-libreng sakay. (Of course, [I'm] happy, alongside the vice president, we are doing it. Especially nowadays, where commodities and diesel are so expensive, the vice president can help the commuters, by offering them free rides)," Cruz told the Philippine News Agency.
Duterte is hopeful that this kind of partnership to widen basic services will continue to flourish.
"I am hoping that this is just the start of many fruitful collaborations with the private sector that are willing to spare their resources to provide much-needed relief to the public, especially now that the country continues to reel and recover from the impact of the Covid-19 pandemic and grappling from the effects of the economic crisis," she said.
Munsayac said other private companies are encouraged to join the free ride program.
"Marami ring pasahero dito sa Commonwealth area, so kung may mga additional buses ng private companies na gustong maki-join dito sa libreng sakay ng DOTr ng Office of the Vice President, welcome po 'yan. (There are also many passengers along the Commonwealth area, so additional buses of private companies are welcome to join in this free-ride program of the DOTr and the OVP)," Munsayac said.
During the event, DOTr Secretary Jaime Bautista thanked Duterte and said the additional buses would help "alleviate the daily struggle of commuters along Edsa."
"We are grateful for her support to DOTr's Service Contracting Program by deploying additional buses along the EDSA Busway to help address the long line of commuters, especially during rush hours," Bautista said.
He said the additional buses would also help address the expected increase in passengers once face-to-face classes begin this August.
"Malaking tulong ang libreng sakay sa ating mga estudyante (The free ride program will greatly help our students)," he said.
The collaboration between the DOTr and the OVP, he said, is the "kind of collaboration of government agencies" that would facilitate different services to the public.
"More importantly, this is one of the crucial ways we could achieve our goal of providing accessible, affordable, comfortable, and safe transport service for all Filipinos," Bautista said.
Free rides ops
In a statement, the OVP said the free bus rides in Metro Manila will operate from 4 a.m. to 10 a.m. and 4 p.m. to 10 p.m., every Monday to Saturday, along the EDSA Carousel route.
In Mandaue City, free rides will be available from 7 a.m. to 10 a.m. and 7 p.m. to 10 p.m., on Mondays and Tuesdays; then from 6 a.m. to 9 a.m. and 4 p.m. to 8 p.m. in Cebu City from SM Seaside to IT Park; Lapu Lapu City will operate from 6 a.m. to 9 a.m. and 4 p.m. to 7 p.m., Fridays and Saturdays, from Mactan Economic Processing Zone (MEPZ) 1; while the point-to-point ride in Bacolod City will be from 6 a.m. to 10 a.m. and 4 p.m. to 8 p.m., excluding Saturdays.
Free rides are also available in areas in Davao.
"The areas of Lasang, Toril, and Calinan are the designated pick-up stations in Davao City. The operation will start at 6 a.m. to 9 a.m. and 5 p.m. to 8 p.m. every Monday and Tuesday for Lasang area passengers, Wednesdays and Thursdays for Toril residents, and Fridays and Saturdays for Calinan-bound commuters," the OVP said. (With reports from Raymond Carl dela Cruz/PNA)