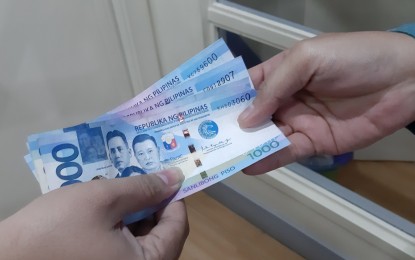 MANILA – The peso's weakness is expected to counter the impact of higher domestic inflation rate as the former can boost consumer's spending power, especially those of overseas Filipino workers' (OFWs) beneficiaries.
According to the July 2022 issue of The Market Call, the joint publication of the First Metro Investment Corporation and the University of Asia and the Pacific, the peso remains under pressure given the general strengthening of the US dollar, backed by the continued hikes in the Federal Reserve's key rates.
It, however, said "unlike other countries, the peso depreciation's positive effects should mitigate a good part of consumer spending weakness dogged by high inflation."
The weaker peso also benefits the business process outsourcing sector and the country's exports, it added.
To date, the peso is trading at 55-level against the greenback. It has improved a bit after dipping to the 56-level a few weeks back.
The rate of price increases climbed to 6.1 percent last June from the previous month's 5.4 percent, resulting in an average of 4.4 percent in the first half of the year.
The monthly inflation print breached the government's 2-4 percent target band since last April when it accelerated to 4.9 percent due mainly to the impact of higher prices of oil in the international market.
"The peso should also recover in the short-term as the U.S. dollar has started to reverse its recent sharp rise and the PH (Philippines) balance of trade deficit slightly softens by H2 (second half)," the report said.
The peso's weakness, along with the robust expansion of the country's imports on higher domestic demand, has bloated the country's trade deficit.
Exports also remain strong but post slower growth than imports.
Philippine Statistics Authority data show that imports grew by 31.4 percent year-on-year last May, higher than the 6.2-percent expansion of exports during the same period.
This resulted in an annual rise of 78.6 percent for the trade balance in the fifth month this year, amounting to a USD5.68-billion deficit.
The report expects the peso to slightly recover in the coming days as the US dollar weakens and prices of oil in the international market decline. (PNA)