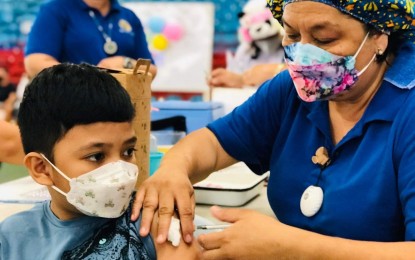 DUMAGUETE CITY – The provincial government of Negros Oriental has started administering the first booster of the vaccine against Covid-19 for the age group 12-17, a key health official here said Wednesday.
Assistant Provincial Health Officer Dr. Liland Estacion said this started on Monday, alongside the second booster for individuals aged 18-49 with comorbidities, and also the second booster for all sectors aged 50, with or without comorbidity.
"We have plenty of available vaccines and we are calling on these sectors to have themselves boosted or vaccinated as we continue with our efforts to contain the spread of Covid-19," Estacion said in mixed English and Cebuano.
The Provincial Health Office is conducting massive vaccination drives at the Lamberto Macias Sports Center and at a department store in this capital while allocating vaccines to all local government units and hospitals, she said.
Her office is still collating data as of this week to get the exact figures for those who have already been vaccinated as well as those eligible for booster shots.
Meanwhile, the health officer said Covid-19 cases in Negros Oriental continue to rise.
Estacion said as of Aug. 3, the province's total caseload is 23,884 with 23,041 recoveries, 743 mortalities, and 100 active cases.
She reiterated her call to the public to have themselves tested for Covid-19 if they exhibit symptoms as the PHO offers free reverse transcription-polymerase chain reaction (RT-PCR) examination to the public.
Those who conduct self-testing through over-the-counter antigen test kits are also encouraged to report to the PHO or nearest health center for documentation if they test positive for Covid-19. (PNA)