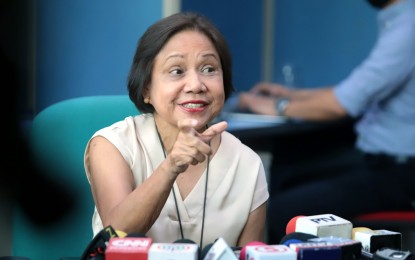 MANILA – Senator Cynthia Villar on Wednesday said Republic Act 11898 or the Extended Producer Responsibility Act, which recently lapsed into law, will only be limited to large companies.
The law requires large companies to adopt and implement policies for the proper management of plastic packaging wastes.
Villar explained that micro, small and medium enterprises (MSMEs) are not ready to take another responsibility amid the economic burdens brought by the coronavirus disease 2019 (Covid-19) pandemic.
"We thought that mahirap sa kanila (it will be hard for them) to be given responsibility now, on recovery pa sila (they are still in recovery). But the large companies are very prepared to do this kasi (because) this is a practice abroad. When you say large companies, they are mostly international. So, they have been doing this in other countries," she told Senate reporters.
Even if the pandemic ends, Villar is uncertain if it will be imposed on MSMEs.
"Tingnan natin kung maka-recover [ang MSMEs] kasi hindi naman ako lang magde-decide (Let's see if they will recover because I am not the only one who will decide). In Congress, there are people who will not agree to it. Kaya ako pumayag ng (That's why I agreed to include) large [companies] as a first step to it kaysa naman wala (instead of nothing)," she said.
Having a "sachet economy", Villar pointed out that Filipinos are used to buying products that are packaged in sachets which sometimes end up in drainage systems.
RA 11898, which amends the Ecological Solid Waste Management Act, was ratified by the Senate during the 18th Congress after garnering a unanimous 22-0-0 vote.
Villar, who was the chairperson of the Senate Committee on Environment, Natural Resources and Climate Change then, said the bill was crafted in response to the clamor for the regulation of single-use plastics and their production, importation and disposal by industries. (PNA)