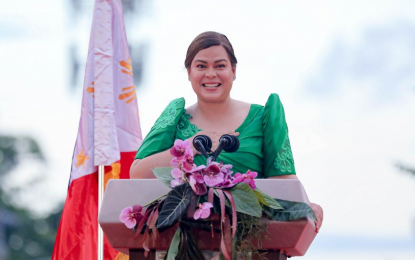 MANILA -- A party-list lawmaker is pushing for the establishment and construction of a permanent official residence for vice presidents of the Philippines.
In his House Bill 2698 filed on July 28 and released on Wednesday, KUSUG TAUSUG Rep. Shernee Tan-Tambut said the construction of the official residence for the vice president will be beneficial to the government in the long run due to rising cost of rental, and other services.
Tan-Tambut noted that the Office of the Vice President has to move from one place to another depending on the choice of the vice president, as the Constitution does not explicitly provide an official residence for the second highest national official.
"Our past Vice Presidents used the Coconut Palace or the Tahanang Maharlika and also the Quezon City Reception House in New Manila, Quezon City," she said. "Being the second highest elected public official of the land, the Vice President needs a presentable official residence where he or she can meet official visitors like public officials, foreign dignitaries, or even common people needing assistance."
She cited as example the case of the United States, wherein it has been using the United States Naval Observatory in Washington D.C., as the official residence for vice presidents since 1974.
She also pointed out that in India, the official residence for the vice president is called Upa-Rashrtapati Bhavan, while it is called Rumah Dinas Wakil Presiden in Indonesia.
Under the bill, the vice president shall be authorized to create a technical working group that will determine the location of the permanent site, planning, design, cost estimates, and other details related to the construction of the official residence.
To further drop long-term financial liabilities, Office of the Vice President (OVP) spokesperson Reynold Munsayac earlier said Vice President Sara Z. Duterte has planned to establish a "permanent home" for future vice presidents.
"This will result in stability and reduce cost in office operations, considering that future Vice presidents will no longer need to rent temporary offices to house their staff," he said.
This permanent construction intends to cater operations of the succeeding vice presidents as well as the current and future OVP personnel.
No details were given yet as to where the OVP permanent office will be established. (PNA)