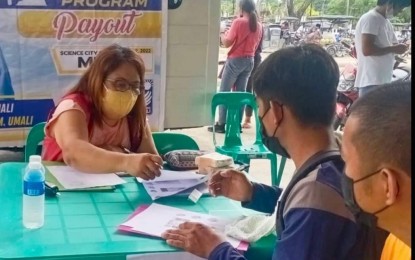 CITY OF SAN FERNANDO, Pampanga – The Department of Social Welfare and Development (DSWD) regional office here has tapped 887 indigent residents to work in activities classified as risk-resilient projects.
Through a cash-for-work scheme, the DSWD provided the residents with temporary employment, planting trees and establishing communal and backyard gardening.
The program beneficiaries were 488 residents of the Science City of Muñoz and Bongabon town, both in Nueva Ecija; and 399 residents of Paombong and Bulakan towns, both in Bulacan province.
Each beneficiary received PHP4,200 as compensation for their 10-day work, or a total of PHP3,754,800.
DSWD regional information officer Renier Gorospe said on Thursday the projects under the DSWD's Risk Resiliency Program-Climate Change Adaptation and Mitigation Disaster Risk Reduction (RRP-CCAM DRR) focus on empowering communities to become disaster-resilient by combating the effects of climate change.
Gorospe said the projects are anchored on the climate change action plan of the local government units, which also includes plastic bottle recycling, mangrove reforestation, communal gardening, and riverbanks rehabilitation, among others.
Through RRP-CCAM DRR, the DSWD not only educates the public about the effects of climate change and adaptation but also encourages them to take care of the environment.
"The main goal of the program is to strengthen the residents' capabilities on how to deal with climate change and likewise encourage the communities to unite in effectively addressing the threat of global warming," Gorospe said in a radio interview. (PNA)