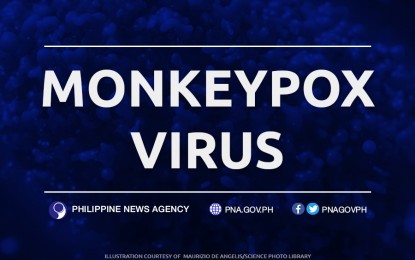 MANILA – Davao City Representative Paolo Duterte on Thursday called for a heightened community-based public awareness campaign about monkeypox, as well as related prevention and protective measures.
Duterte said the Department of Health (DOH) should team up with the local government units (LGUs) and civic organizations to educate the public about monkeypox to prevent its spread, adding that the information drive should cascade down to the community level.
"Educating our countrymen at this stage will help the DOH in its public surveillance and prevention efforts. It will also clear up misconceptions about monkeypox that could lead people to become lax in following health protocols," Duterte said.
Duterte said among the misconceptions that need to be clarified include reports that monkeypox is only sexually transmitted when in fact the World Health Organization (WHO) and the US Centers for Disease Control (CDC) have confirmed that the virus can be passed on through close contact with infected individuals, and also through droplets or touching contaminated beddings or towels.
On July 23, the WHO declared the monkeypox outbreak a "public health emergency of international concern" after around 70 countries where the viral disease is not endemic have reported outbreaks.
Last week, the DOH announced that a 31-year-old Filipino who returned to the country from an overseas trip last July 19 tested positive for monkeypox.
The DOH said it has identified 10 close contacts of the patient, of which three were from the same household.
Duterte said increased vigilance by the public, which can only be done if they have the right information about the disease, will help prevent the spread of monkeypox.
"Educating the public will also help eliminate the stigma that might be associated with monkeypox and encourage people with possible infections to come forward instead of remaining undetected. This will also prevent panic in the event that the virus is detected elsewhere within our borders," Duterte said.
According to the WHO, symptoms of monkeypox, a viral infection that causes skin lesions, include fever, intense headache, swelling of lymph nodes, back pain, muscle aches, lack of energy, and rashes. The incubation period (interval from infection to onset of symptoms) of monkeypox is usually from six to 13 days but can range from five to 21 days.
AGRI Representative Wilbert Lee, meanwhile, called for the urgent creation of a national task force to monitor the status and combat monkeypox to proactively prevent community transmission and infection.
In filing House Resolution No. 134, Lee said a national task force, composed of relevant government agencies in partnership with the private sector, must be established to enhance preparation and develop strategies to proactively combat monkeypox.
"The said national task force against the monkeypox virus shall also update the public on the status of this disease, implement robust decisions to fight the continued threats of the monkeypox virus and develop education and strategic communication materials that will equip and prepare the general population to mitigate the risk of being infected by the virus and qualm the potential panic and misinformation that can affect the public," Lee said. (PNA)