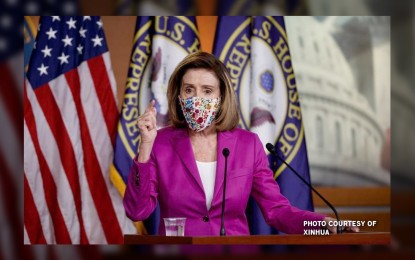 MANILA – The Philippine government on Thursday called for restraint as tensions mount between the United States and China over Speaker Nancy Pelosi's controversial trip to Taiwan.
The Department of Foreign Affairs (DFA) said Manila is concerned with the "rising tensions" in the Taiwan Strait, which is just north of the country.
In a statement, it reiterated its adherence to the One-China policy, recognizing the People's Republic of China as the sole Chinese government.
"The Philippines adheres to the One-China policy. The Philippines urges restraint by all parties concerned. Diplomacy and dialogue must prevail," it said.
Pelosi's unannounced Taiwan trip on August 2 sparked fury from Beijing, describing it as a "provocation and infringement on China's sovereignty and territorial integrity."
Immediately after her landing in Taipei, the Chinese People's Liberation Army announced military drills in waters off Taiwan.
The US official departed the island on August 3 after pledging Washington DC's "ironclad support for Taiwan's democracy, including matters of security and stability, economic growth and governance".
The Association of Southeast Asian Nations (Asean) also called for "maximum restraint" and urged all parties to refrain from provocative actions and uphold the principles enshrined in the United Nations Charter and the Treaty of Amity and Cooperation in Southeast Asia.
It warned that latest developments in the area could destabilize the region and eventually risk "miscalculation, serious confrontation, open conflicts and unpredictable consequences among major powers."
"We should act together and ASEAN stands ready to play a constructive role in facilitating peaceful dialogue between all parties including through utilizing ASEAN-led mechanisms to deescalate tension, to safeguard peace, security and development in our region," it said in a statement dated August 3. (PNA)