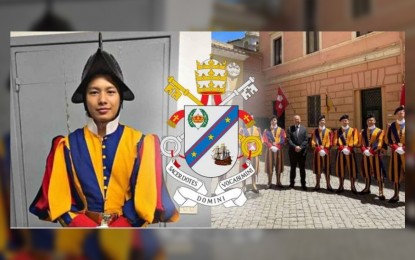 MANILA – A first full-blooded Filipino has been appointed to the ranks of the Pontifical Swiss Guard at the Vatican City.
Fr. Gregory Ramon Gaston, Rector of the Pontificio Collegio Filippino, said Sebastian Esai Eco Eviota formally joined the ranks, citing a letter from Swiss Guard commander Christoph Graf dated Jan. 17, 2022.
"We are happy to see children of Filipinos incorporated into the Church and society abroad," he said in an interview over Church-run Radio Veritas Thursday.
Eviota, a native of Davao City is already active in serving in various ministries of the church.
The Catholic priest noted that the inclusion of Filipinos in the Swiss Guard is proof of the widespread missionary work of Filipinos as Christians, especially since the Philippines is the third largest country in terms of the number of baptized Catholics at over 80 million.
"As we begin the next 500 Years of Christianity in the Philippines, the service of those with Filipino roots in the Pontifical Swiss Guards and in the Vatican as a whole is yet another manifestation that indeed we are gifted to give of ourselves wherever God has called us to be," Gaston added.
Eviota is the second Filipino to be included in the Pontifical Swiss Guard after Swiss-Filipino Vincent Lüthi.
His father, Diomedes Eviota Jr. is from Surigao City while his mother Editha Eco is from Agusan Del Sur.
In 2009, Eviota left the Philippines and went to Switzerland where he became active in Youths for Christ (YFC) Europe and a council member of the English-speaking Roman Catholic Community of Canton Berne.
He became a second lieutenant of the Swiss Army after two years of basic training and served in the Infantry 13th Battalion.
The Pontifical Swiss Guard is a minor armed force and honor guard unit maintained by the Holy See that protects the Pope and the Apostolic Palace within the territory of the Vatican City.
Established in 1506 under Pope Julius II, it is among the oldest military units in continuous operation. (PNA)