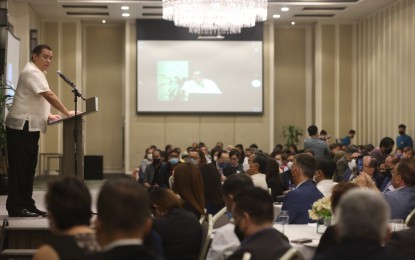 MANILA – Speaker Martin Romualdez on Thursday assured the Philippine Chamber of Commerce and Industry (PCCI), the country's largest business organization, that the House of Representatives will act on the Marcos administration's priority bills related to commerce and industry before the year ends.
In his speech during PCCI's General Membership Meeting at Makati Diamond Residences in Makati City, Romualdez also committed to hold consultations with the PCCI regarding the priority legislative agenda of President Ferdinand "Bongbong" Marcos Jr. as outlined in his first State of the Nation Address (SONA).
"Majority of the priority measures spelled out by President Marcos in his SONA are principally authored by no less than your House Speaker so I expect my fellow legislators to act on these bills with dispatch. In fact, I am hopeful that we can approve most of these measures before the year ends," Romualdez said.
He encouraged the business organization to make its position very clear on these issues, as he vowed to hear all relevant stakeholders before passing these important bills.
"One thing I assure you, though. As stakeholders, you will be consulted in every measure that we tackle especially those involving commerce and industry," he said.
The priority measures related to the sector include the Government Financial Institutions Unified Initiatives to Distressed Enterprises for Economic Recovery (GUIDE) Act; Valuation Reform Bill; Passive Income and Financial Intermediary Taxation Act (PIFITA); E-Government Act; Internet Transaction Act or E-Commerce Law; National Land Use Act; Enactment of an Enabling Law for the Natural Gas Industry; (8) Amendments to the Electric Power Industry Reform Act; and Amendments to the Build-Operate-Transfer (BOT) Law.
PCCI, according to its site, is "a non-stock, non-profit, non-government business organization composed of small, medium, and large enterprises, local chambers and industry associations representing various sectors of business, all working together to foster a healthier Philippine economy and improve the viability of business in the community." (PNA)