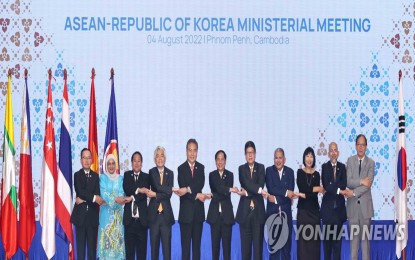 PHNOM PENH – South Korea will strengthen "strategic dialogue" with the Association of Southeast Asian Nations (Asean) on regional challenges, Seoul's top diplomat said Thursday during a group meeting in Phnom Penh with his counterparts from the members of the key regional bloc.
"Our partnerships (with Asean) will focus on strengthening strategic relations in the economic field and beyond," Park Jin, the first foreign minister of the Yoon Suk-yeol administration, said during the Asean-South Korea ministerial meeting.
The annual session has been held every year since 1997.
Park was briefing the Asean members on the Yoon government's regional policy less than three months after it replaced the Moon Jae-in administration that campaigned for the New Southern Policy intended to bolster Seoul's strategic ties with the Asean and India.
Myanmar is ruled by a military regime and was absent from this year's event.
Park said Seoul's stated plan to play a more proactive role in promoting freedom, peace and prosperity worldwide as a "global pivotal nation."
"In that regard, the Asean, which is a core part of the Indo-Pacific region, will naturally become the center of South Korea's new initiative," he said.
For the Asean, he added, South Korea is a "trustworthy and reliable partner."
Park said the conservative Yoon administration's approach towards North Korea and requested Asean members' support for efforts to ease tensions on the Korean Peninsula and resolve the nuclear problem.
Later in the day, he joined an enlarged Asean Plus Three meeting, also involving the Chinese Foreign Minister Wang Yi and Japanese Foreign Minister Hayashi Yoshimasa.
It marked the first in-person trilateral foreign ministerial talks in three years as the Asean-hosted meetings were held virtually in 2020 and 2021 due to the coronavirus disease 2019 pandemic.
Their gathering came at a time of heightened tension between Washington and Beijing following US House Speaker Nancy Pelosi's visit to Taiwan earlier this week.
In his opening remarks, Wang did not mention the sensitive issue.
South Korea and Japan have agreed to strengthen security cooperation with the US to counter North Korean military threats, and Washington has asked the East Asian nations to join the so-called Chip 4 alliance with Taiwan in the semiconductor industry. (Yonhap)