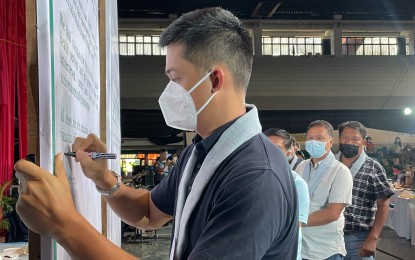 LAOAG CITY – Various health leaders in Ilocos Norte on Friday vowed to prioritize healthcare and foster stronger collaboration among healthcare providers.
During the first universal health care summit here, officials from the central and regional offices of the Department of Health, local government units, and the private healthcare sector affirmed their full support for the full implementation of the Universal Healthcare Law.
"We will make sure that our health facilities are staffed with passionate and competent healthcare workers and that every medical facility has the right people in place, happy and well-compensated," said Ilocos Norte Governor Matthew Joseph Manotoc, as he emphasized the importance of a financially stable health system where people from all walks of life, including the elderly, the poor, and the vulnerable, can access health services at an affordable price.
Since the start of his administration, Manotoc has pledged to further develop Ilocos Norte by investing in health, recognizing his constituents as the "greatest assets" of the province.
He said the Ilocos Norte government continues to improve and expand its healthcare infrastructure to increase the capacities of all government-managed hospitals in the province.
In the past three years, the provincial government has spent around PHP290 million on the improvement of district hospitals and over PHP434 on medical equipment and supplies.
Last year, almost PHP47 million was extended as financial assistance, hazard pay, and special risk allowance to health workers.
A PHP20-million oxygen generator and refilling plant were also established last year at the Governor Roque B. Ablan Sr. Memorial Hospital and Medical Center here to supply medical oxygen to government hospitals, district hospitals, and nearby medical centers outside the province. This gave Ilocos Norte a greater advantage in the fight against the coronavirus disease 2019, said Manotoc.
The provincial hospital can now accommodate more patients with nine new and improved buildings. With the backing of the national government, the governor said Ilocos Norte will continue to upgrade its medical care capacities, down to the barangay (village) level, and introduce telemedicine while ensuring quality universal healthcare.
At least one Malasakit Center also opened at the provincial hospital last year, providing a one-stop shop, where patients can access medical and financial assistance offered by different government agencies.
To build a strong foundation for the health system, former president Rodrigo Duterte signed the Universal Healthcare Act that automatically enrolls all Filipinos in the National Health Insurance Program and prescribes complementary reforms in the health system.
This gives citizens access to the full continuum of health services they need while protecting them from financial hardships. (PNA)