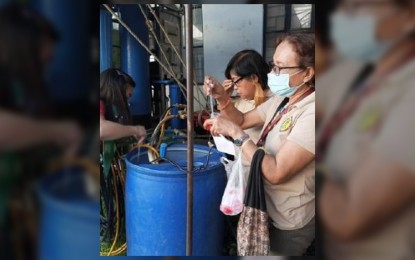 ILOILO CITY – Aklan's provincial health office is carrying out house-to-house dengue vector surveillance and monitoring in the five municipalities with the highest recorded cases to intensify its "advocacy on the search and destroy to remove breeding sites" of the dengue-carrying Aedes aegypti mosquitos.
Roger Debuque, the coordinator for the dengue program of the Aklan Provincial Health Office, said on Friday the ongoing activity targets at least 500 households in 103 barangays.
The house-to-house cleanup program started in early July in the five towns with high number of cases -- Ibajay with 94; Nabas, 72; Kalibo, 55; Malay 41; and Buruanga with 25.
The province reported 403 dengue cases with three deaths from January 1 to July 30 or a 1,309 percent increase compared to the 28 cases during the same period last year.
So far, the cases have not reached the alert and epidemic threshold as "our cases are fluctuating and are not steadily increasing," according to Debuque in an interview.
Should the cases continue to rise and reach the threshold, they may have to sit down and look into their next step, he added.
"We are intensifying the monitoring of our cases since for this year, we expect a surge or increase in cases of dengue," Debuque said.
Last July 20, Governor Jose Enrique Miraflores mandated the intensification and adoption of preventive measures for dengue and other mosquito-borne diseases such as the "4S" strategy calling for the Search and destroy mosquito breeding places, Self-protection, Seek early consultation and Say "yes" to fogging in areas with an impending outbreak.
He also ordered the setting up of hydration units; allocation of funds for the purchase of intravenous fluid sets and dengue test kits; and the conduct of blood tests at the rural health unit. (PNA)