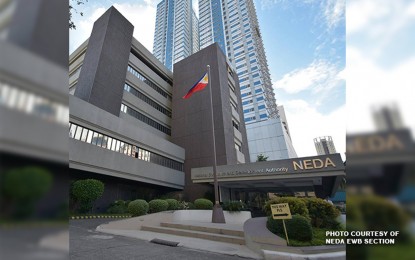 MANILA – The government is committed to ensuring food security and affordability, and reducing transport and logistics costs to arrest the rise of inflation and protect the Filipino consumers, the National Economic and Development Authority (NEDA) said.

The Philippine Statistics Authority reported Friday that the country's inflation rate for July 2022 rose to 6.4 percent, which is at the upper end of the Bangko Sentral ng Pilipinas' forecast range of 5.6 to 6.4 percent for the month.

"In our near-term socioeconomic agenda, we want to ensure that there's sufficient and healthy food on the table of every Filipino. We are also helping reduce energy, transport, and logistics costs, especially for vulnerable sectors of our population. It is our urgent priority to ease price pressures and protect the public's purchasing power through the implementation of programs that will help Filipinos cope with the effects of higher inflation rate," Socioeconomic Planning Secretary Arsenio Balisacan said.
The Department of Budget Management has approved the PHP4.1-billion second tranche of the Targeted Cash Transfer Program. This will help over four million Filipino families, who belong to the poorest of the country's population, to cushion the effects of the rise in prices.

Meanwhile, inflation in July 2022 was driven by broad-based acceleration across commodity groups, especially on food and non-alcoholic beverages at 6.9 percent. This is due to faster inflation of meat, fish, rice, corn, and fruits.

"To boost local food production, the government will continue to support the agriculture sector through lower input costs, development of new farming technologies, extension of financial assistance to farmers, and strengthening the agricultural value chain. These can be achieved through the Plant, Plant, Plant Program 2, the government's PHP24-billion flagship program on food security, which provides subsidy and support to the agriculture sector," Balisacan said.

The inflation rate of transport, one of the main inflation drivers, increased to 18.1 percent in July 2022. This was mainly due to the nationwide provisional increase in public utility jeepney (PUJ) fares.

Thus, given that oil prices remain elevated, the government will fast-track the distribution of the second tranche of subsidies for PUJ drivers and operators.

Along with this, the government will also accelerate the fuel cash subsidies for tricycle drivers together with the ongoing Libreng Sakay Programs of the Department of Transportation and the Office of the Vice President, as well as the approved Metro Rail Transit Line 3, Light Rail Transit Line 2, and PNR "Libreng Sakay" for students of the Office of the President.

Furthermore, more than 158,000 eligible farmers and fisherfolk are set to receive PHP3,000 each as fuel discounts to help cushion the impact of higher fuel prices.
As of July 20, 2022, accounts created for beneficiaries reached 109,073 nationwide. Out of the total accounts, 65,837 were loaded with fuel discounts amounting to PHP207.4 million.

"We have started the preparations for the Philippine Development Plan 2023-2028 and are mindful of the 8-point socioeconomic agenda that includes increasing agricultural and industry productivity and building resilience against external shocks," Balisacan added. (PR)