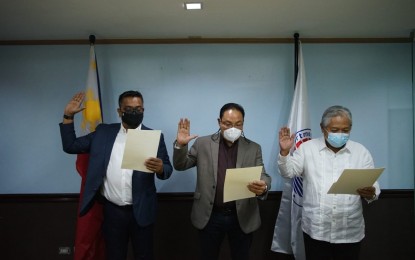 MANILA – President Ferdinand "Bongbong" Marcos Jr. has appointed another batch of railway officials that would lead the Philippine National Railways (PNR) and the Light Rail Transit Authority (LRTA) -- the operator and maintenance provider of the Light Rail Transit Line 2.
In a statement on Friday, the DOTr said Marcos appointed Jeremy Regino as the new PNR Acting General Manager and Henry Uri as Acting Member of the PNR Board of Directors.
"Regino served as the previous Administrator of the LRTA under the Duterte administration, while Uri is a seasoned broadcaster and member of the Board of Directors under the Bases Conversion and Development Authority (BCDA)," it said.
On the other hand, former LRTA spokesperson and corporate board secretary lawyer Hernando Cabrera was appointed as the LRTA's new administrator.
The three officials took their oaths of office with Transportation Secretary Jaime Bautista on Thursday.
Their appointments will later be confirmed by their respective Board of Directors. (PNA)