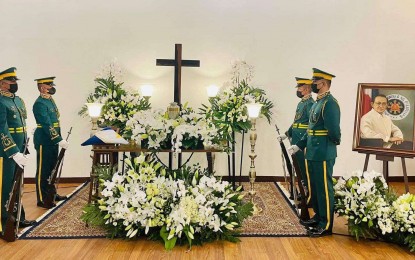 MANILA – Manila Archbishop Jose Cardinal Advincula on Friday paid tribute to the good examples set by the administration of former president Fidel V. Ramos (FVR) in serving Filipinos.
"Recalling his service to the peace, freedom and prosperity of the Filipino people, we humbly commend his soul to the Almighty and merciful God. His life was marked by love of country and an all-embracing commitment to justice and peace," said Advincula in an interview over Church-run Radio Veritas.
At the same time, he expressed condolences to the family of the former President who passed away on July 31 at the age of 94.
The archbishop pointed out the support of the former president in maintaining peace in the country.
"The Archdiocese of Manila expresses deep sorrow at the passing of former President Fidel V. Ramos and extends condolences to his beloved family," he added.
Advincula also acknowledged the humility and full support shown by the former president when then Pope John Paul II visited the country in 1995 for the celebration of World Youth Day.
"The success of the Tenth World Youth Day held in Manila can be attributed to his zeal and magnanimity in going through the details of the preparations himself," he said.
The Manila archbishop also offered prayers for the repose of the soul of the late chief executive.
"As a grateful nation, the former President will be well remembered in our prayers," he added.
Ramos served as the country's 12th president from 1992 to 1998. (PNA)