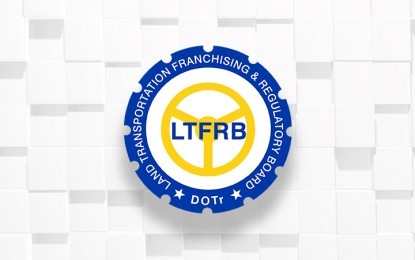 MANILA – School transport services will soon resume operations as part of the Land Transportation Franchising and Regulatory Board's (LTFRB) preparations for the return of face-to-face (F2F) classes.
The LTFRB on Friday released to the media Memorandum Circular 2022-066 signed on July 28 that allows transport units with active Certificate of Public Convenience (CPC) or Provisional Authority (PA) to operate for the looming resumption of classes.
It said those with expired CPCs but with pending Application for Extension of Validity would also be allowed to operate.
Transport services with CPCs that have an expiry date from March 1, 2020 to Aug. 31, 2022 will be allowed to file an application for Extension of Validity with the LTFRB waiving penalties.
"This is in recognition of the adverse financial impact of the Covid-19 (coronavirus disease 2019) pandemic on operators and drivers of school transport services," it said.
In addition, the LTFRB will also waive penalties for school transport units with "pending confirmation" from March 1, 2020 to Aug. 31, 2022.
It reminded drivers and operators of school transport that their vehicles must have secured steel-grilled windows, seatbelts for all passengers, a working portable fire extinguisher, and stop-and-go signage to be carried by the conductor when children cross the street, while drivers and conductors must wear a prescribed uniform.
To combat the risk of spreading diseases amid the pandemic, it said the school transport units must also comply with health and safety protocols prescribed by the Department of Health and the Inter-Agency Task Force for the Management of Emerging Infectious Diseases.
These protocols include regular temperature and health screening of drivers and conductors, regular disinfection of frequently touched surfaces, and mandatory wearing of face masks.
"LTFRB is reminding operators, drivers, and conductors of school transport services to closely adhere to the guidelines to avoid sanctions, such as revocation of their CPC and PA," it said.
To address the expected influx of public transport passengers during the return of face-to-face classes, the LTFRB is eyeing to open more than 100 public transport routes around the university belt in Manila and other areas with a "high concentration of students."
On Thursday, the Department of Education reported that the number of enrolled students for School Year 2022-2023 has reached 13.15 million, with the first day of classes set for August 22. (PNA)