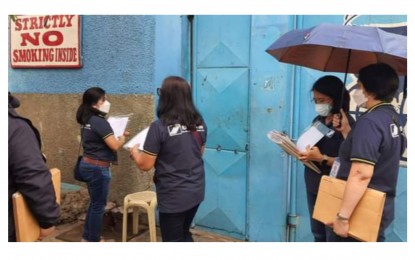 BACOLOD CITY – The Social Security System (SSS) is going after delinquent employers in this city through the agency's Run After Contribution Evaders (RACE) program.
On Friday, SSS-Bacolod served show-cause orders to six more business establishments, after six firms already received similar notices for non-payment of contributions on Thursday.
Among these are a hardware store, agro-industrial store, emission testing center, trucking service provider, beauty clinic, and a pastry shop.
Records showed at least 1,311 employers have delinquencies in paying the SSS contributions of their workers.
These include 139 employers under the SSS Bacolod East branch and 1,172 others under the SSS Bacolod Main office.
Lilani Benedian, SSS Visayas West 1 Division vice president, said the notices were served, and received by the staff as the business owners were not around.
They will be given 15 days to reply, she added.
Benedian said billing and demand letters were issued to the employers before their violations were referred to the Legal Division.
She pointed out that the issuance of the show cause order serves as a reminder for the employers to settle their obligations, and reiterates that the SSS is serious in the implementation of the social security law.
They can pay their delinquency on a staggered basis in the next 18 months, the SSS official said.
A common reason for employers is their businesses were badly hit by the coronavirus disease 2019 (Covid-19) pandemic that they were unable to update the payment of the SSS employees' contributions.
Lawyer Eduard Doresey Caratao, of SSS Operations Legal Department Visayas West 1 Division, said if these employers would not address their violation, they could be charged for acts punishable under Republic Act 11199 or the Social Security Act of 2018.
Other violations committed by the employers are underpayment of contributions, incorrect reporting on the actual number of laborers, and non-registration with the SSS. (PNA)