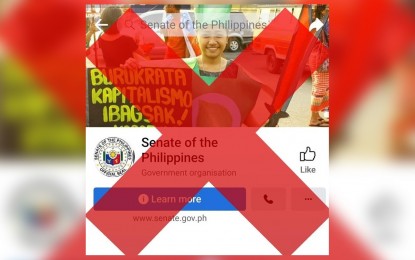 MANILA – The Senate warned against the proliferation of fake social media accounts on Facebook and Linkedln using the name "Senate of the Philippines" and which mimic the official seal to post inaccurate, misleading, and inflammatory content.
Senate Secretary Renato Bantug Jr., in a statement on Friday night, said the official Facebook, Twitter, and Instagram pages of the Senate of the Philippines are verified accounts and bear the "blue check" marks.
The Senate of the Philippines does not have an official LinkedIn page.
Bantug said they have already sent a report to Facebook/Meta and LinkedIn.
"For official and accurate information about the Senate of the Philippines, its members, as well as its activities, please refer to the Senate of the Philippines' official website, or its verified accounts on Facebook, Twitter, and Instagram," he added.
In a related move, Senator Joel Villanueva has filed Senate Bill No. 366, or the Anti-Spam Act, to end the messages and calls that have been victimizing the public due to the absence of an enabling law that will protect telephone and mobile subscribers against electronic scams and threats.
In his explanatory note, Villanueva said the bill will serve as a deterrent against the misuse and abuse of digital technology.
The messages or calls usually offer fake jobs promising high wages or selling products at seemingly discounted prices.
"This is a scheme now called smishing, a form of text message phishing that lures consumers into giving away personal or financial information," Villanueva said.
Under the bill, spam is defined as a call or text message that may fall under any one or more of the following categories:
●Those containing commercial promotions or advertisements that are not initiated by the recipient, and the recipient did not opt-in to receive;
●Those that cause programs to be installed on the subscriber's device without the subscriber's consent;
●Those that contain false or misleading electronic representations redirecting to websites, chat platforms, and similar online platforms; and
●Those that trigger the collection of personal information by accessing an electronic device illegally.
The bill automatically opts out all telephone and mobile subscribers from spam calls or messages, and allows the subscriber to provide prior consent before any commercial or promotional advertisements can be sent to such subscribers.
Mobile network service providers will be mandated to provide user-friendly reporting mechanisms for their subscribers and immediately act on complaints.
It also establishes a prima facie presumption of a violation of its provisions if the subscriber opted out of receiving any calls or text messages, or when the subscriber has declined to further give consent to the continuation of the call or text but still receives such messages, or when the unsolicited call or text falls within the second to fourth categories of spam as indicated in the bill.
The National Privacy Commission, National Telecommunications Commission, and National Bureau of Investigation, in coordination with relevant stakeholders, will be asked to further improve efforts to protect data privacy. (PNA)