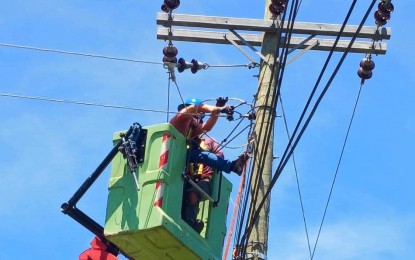 MANILA – The Senate will look into the power supply problems in rural areas as more provinces, mostly managed by the local electric cooperatives, are experiencing service interruptions.
Senator Raffy Tulfo, chair of the energy committee, said in a statement on Saturday that he would file a resolution to start an investigation into power failures, vowing to hold officials accountable.
During Friday's episode of Tulfo's popular "Wanted sa Radyo" public service program, he castigated officials of the Oriental Mindoro Electric Cooperative (Ormeco) after consumers complained of unresolved decades-long power outages and unjustified high electricity costs.
Ormeco is the lone power distributor in the province.
One complainant, Bern Josep Persia, said consumers have been experiencing power interruptions that last more than 12 hours.
"The Ormeco problem has been going on for two decades. Electric appliances and students who have a hard time studying are affected, to name a few. Worse, electricity rates are high despite the frequent service interruption," Tulfo said in Filipino.
Humphrey Dolor, Ormeco general manager, told Tulfo that the issue on independent power supply is among the reasons for the persistent brownouts.
Tulfo said it is an unacceptable excuse and consumers must get their money's worth.
He told Dolor that according to Director Mario Marasigan of the Electric Power Industry Management Bureau, Ormeco has not been following the recommendations of the Department of Energy on how to solve the power outages.
"Why does it have to reach a final recommendation? Consumers would not have to suffer if only the concerned agencies do their jobs," Tulfo said.
Based on complaints received by Tulfo, other areas and provinces affected by constant brownouts are Nueva Ecija, Northern Samar, Pampanga, San Isidro and San Jose in Nueva Ecija, Calaca in Batangas, Quezon province, Tabuk City in Kalinga, South Cotabato, Maguindanao, Ozamiz, Lumban in Laguna, Zamboanga City, Pangasinan, Tarlac, Marinduque, Camarines Norte, Echague in Isabela, Zamboanga Sibugay, Masbate, Davao Oriental, Southern Leyte, Casiguran in Aurora, and Bicol.
According to the provincial government, Ormeco and Topteam Power Generation, Inc. signed an agreement for an 18.3-megawatt Emergency Power Supply Agreement at the power cooperative's main office in Calapan City on Thursday to at least reduce the number of hours of service interruption. (PNA)