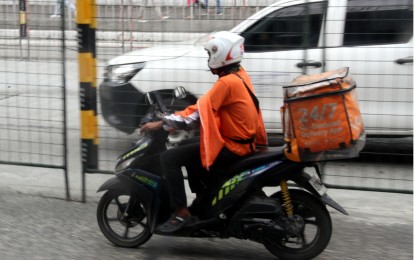 MANILA – Service providers have the duty to pursue claims for collection from canceling customers and the burden should not be passed on to their delivery riders or drivers.
In a statement on Saturday, Senator Lito Lapid said he filed Senate Bill 38, or An Act Providing Measures to Protect Individuals Engaged in Food, Grocery, and Pharmacy Delivery Services, for the benefit of delivery riders and drivers who have to pay for unjustified cancellation of orders or "no-show" customers.
In case of cancellation of confirmed orders, the service provider should be the one to pay the delivery rider or driver for the service fee.
The fraudulent acts, Lapid said, result in a waste of time, effort, and money on the part of the delivery riders or drivers.
"Batid ko ang hirap ng mga delivery rider kaya sa pamamagitan ng panukalang batas na ito, isinusulong ko ang proteksyon para sa kanila para hindi sila malugi o maagrabyado sa kanilang trabaho (I know the struggle of our delivery riders, that is why with this bill, I will push for their protection so they would not be taken advantage of in their job)," he said.
Senate Bill 38 aims to ascertain whether the rights of the delivery riders or drivers are respected and whether the obligations imposed on food, grocery, and pharmacy delivery service providers are fulfilled.
It prohibits any food, grocery, and pharmacy delivery service providers to require delivery riders or drivers to advance any monetary amount for the fulfillment of orders.
Any investigation or inquiry conducted by the service providers on the propriety or validity of the cancellation shall not affect the right of the riders or drivers to collect their service fees, the bill proposes.
Food, grocery, and pharmacy delivery service providers who will violate the prohibition on requiring monetary advances from delivery riders or drivers may be sentenced to the penalty of arresto mayor, or up to six months in prison, and/or imposed a fine not exceeding PHP100,000.
Their licenses and permits may also be revoked.
Senator Jinggoy Estrada, meanwhile, has filed two bills to benefit public utility bus (PUB) drivers and conductors.
Senate Bill 48, or the proposed Bus Drivers and Conductors Compensation Act, will entail fixed salaries on a regular basis for PUB drivers and conductors, thus removing the pressure of working "beyond humane working hours" that sometimes lead to accidents
Benefits and incentives provided in the Labor Code and related laws shall also be accorded to drivers and conductors.
Senate Bill 289, or the Comprehensive Assistance Program for Public Utility Vehicles (PUV) Drivers Act, will require public utility vehicle operators to pay the equivalent amount of the monthly contribution of drivers to the Social Security System, Philippine Health Insurance Corp., Home Development Mutual Fund, and Employees Compensation Commission.
Livelihood and credit assistance will also be available to help augment the family income of PUV drivers. (With a report from Leonel Abasola/PNA)