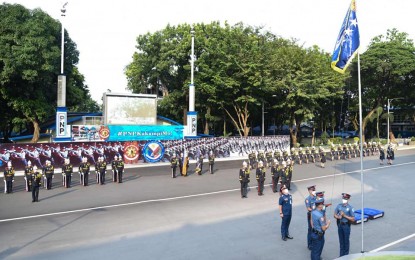 MANILA – President Ferdinand Marcos Jr. will make his first official visit to Camp Crame on Monday for the 121st Police Service Anniversary.
The 227,000-strong police force is expected to receive marching orders and policy guidance from Marcos.
The event will commemorate the founding of the former Philippine Constabulary, the country's first insular police force, on Aug. 8, 1901 and carries the theme "Matibay na Ugnayan ng Pulisya at Mamamayan, Tungo sa Pagkakaisa, Kapayapaan at Kaunlaran" (Strong Police-Community Partnership, Toward Unity, Peace and Progress), according to a PNP statement on Sunday.
As commander-in-chief, Marcos will present awards and citations to outstanding PNP units and personnel. He will be assisted by Interior and Local Government Secretary Benjamin Abalos Jr. and Gen. Rodolfo Azurin Jr., newly installed PNP chief.
Azurin said the anniversary will highlight PNP's peace and security framework dubbed "Malasakit, Kaayusan, Kapayapaan tungo sa Kaunlaran" (MKK = K, or Compassion, Order, Peace toward Progress).
"As we celebrate this auspicious day, we also honor and pay tribute to our fallen police officers, our unsung heroes, whose legacy, exceptional dedication to duty, selfless service, and unconditional love and sacrifices for our country and countrymen are forever etched in the colorful history of the PNP," Azurin said in a statement. "We are here to manifest the nation's enduring gratefulness and carry on the ideals they cherished.
Community-level peace
In a radio interview also on Sunday, Azurin wants all policemen to actively engage barangay (village) officials in strengthening peace and order at the community level.
He said the engagement will include planning and implementation of peace and order strategies as village officials are in the better position to determine the courses of action that are appropriate for their constituents.
"Basically, our focus is always on crime prevention and the crime solution so we need to organize the community and mobilize them so that we can work together to ensure the peace and order in our country," Azurin said.
Village officials, Azurin said, have wide information networks on who among their constituents are involved in illegal activities.
Azurin said the strengthening of good working relationships should be expanded to include other sectors of the society, including the religious and the academe.
"Policemen know their job and what we want is to for the police, the barangay officials, and other stakeholders to work together as far as progress and development are concerned," he added. "We need to build a good relationship with the community for them to trust the police."
During his stint as Ilocos Region director, Azurin said he went down to the barangay level and asked for help.
Plans
He also vowed to stop the patronage system in the promotion of officers, through a five-year recruitment, promotion and retirement plan.
"This will give the leadership a glimpse of the financial requirement necessary when requesting for annual budget for personnel services," he said. "Then we must continue to ensure that our personnel due for compulsory retirement shall receive all their entitled benefits on the day or year they retire."
Another program that Azurin will pursue is going after rogue policemen.
"To further cleanse our ranks of misfits and undesirables, we need to level up our counter-intelligence," said Azurin. "Hence, to further strengthen our internal cleansing program, all commanders must exercise their respective disciplinary authority, otherwise they shall be replaced with a more competent commander."
Azurin is the 28th PNP chief and the first under Marcos. He will serve until April 24, 2023, when he reaches the mandatory retirement age of 56. (PNA)