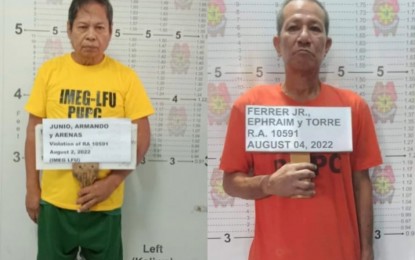 MANILA – Members of the anti-scalawag unit of the Philippine National Police (PNP) have arrested two ex-police officers wanted for violation of Republic Act 10591, the Comprehensive Firearms and Ammunition Regulation Act, in separate operations in the provinces of Pangasinan and Rizal.
In a statement on Sunday, Brig. Gen. Samuel Nacion, chief of the Integrity Monitoring and Enforcement Group (IMEG), said their operatives together with Taytay Municipal Police Station (MPS) personnel initiated a search warrant operation that led to the arrest of retired Pat. Ephraim Ferrer Jr. in Barangay Sta. Ana, Taytay, Rizal last August 4.
Nacion said Ferrer is responsible for the proliferation of illegal drugs and a protector of drug personalities operating in the areas of Barangay Pinagbuhatan in Pasig City and C6 in Taytay. He is also involved in carnapping, gun running and carrying unlicensed firearms.
Confiscated during the search was one unit Armscor .40 caliber pistol and assorted live ammunition.
The arrested suspect was brought to Taytay MPS for documentation and proper disposition.
Meanwhile, SPO1 Armando Arenas Junio Jr., a dismissed member of the Quezon City Police District's Station 6-Batasan, was arrested by virtue of a search warrant by members of the IMEG and Pangasinan Police Provincial Office operatives in Barangay Tambac, Bayambang, Pangasinan last August 2.
"The dismissed policeman was reported for indiscriminate firing whenever he is under the influence of liquor and still introducing himself as cop. The suspect was arrested and was brought to Bayambang PS. The search was done in an orderly manner which was witnessed by the barangay officials," Nacion said.
Confiscated during the search were a .45 caliber pistol with defaced serial number and inserted magazine containing eight live bullets, as well as other ammunition.
The arrested suspect is now under the custody of Bayambang Municipal Police Station for documentation and eventual filing of case.
"We are fully committed to leading the PNP's Internal Cleansing Programs to purge our ranks and identify rouge PNP members whether they are active, retired, or dismissed from the service," Nacion said. (PNA)