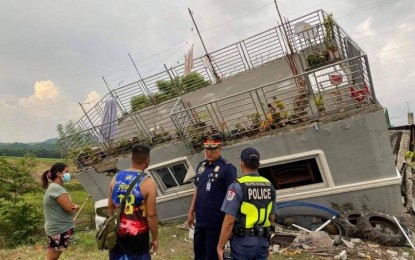 MANILA – The number of damaged houses caused by the July 27 magnitude 7 earthquake that rocked Abra and nearby Northern Luzon provinces has now reached 35,463, the National Disaster Risk Reduction and Management Council (NDRRMC) said Monday.
In its latest situation report, the NDRRMC said the number includes 34,842 "partially damaged" houses and 621 "totally damaged" houses.
Most of the damaged houses are in the Cordillera Administrative Region (CAR) with 26,856, followed by Ilocos Region with 8,605 and one damaged house each in the National Capital Region (NCR) and Cagayan Valley.
The amount of damage to agricultural infrastructure, equipment and facilities has reached some PHP33.22 million in CAR, while damage to irrigation systems was estimated at PHP22.7 million in CAR and Ilocos.
The damage to infrastructure in Ilocos Region, Cagayan Valley, CAR and NCR has amounted to PHP1.59 billion.
The death toll stands at 11 while the number of injured stands at 614.
CAR topped the list of injured with 578, followed by Ilocos with 34 and Cagayan Valley with two.
Families affected by the quake are now placed at 140,101, which is equivalent to 512,936 persons residing in 1,334 barangays in Ilocos Region, Cagayan Valley and CAR.
Only 298 families or 968 persons are staying in 11 evacuation centers as majority of the evacuees started to return to their homes. (PNA)