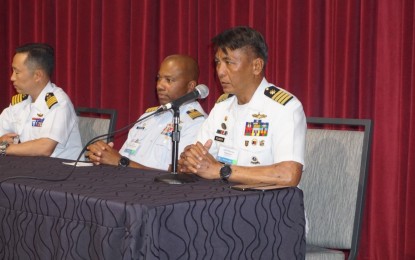 MANILA – The recently-concluded Rim of the Pacific (RIMPAC) maritime exercise has underscored the need for a more modern Philippine Navy (PN).
BRP Antonio Luna (FF-151) commanding officer Capt. Charles Merric Villanueva made this remark during the Indo-Pacific Maritime Security Exchange (IMSE) in Hawaii on Aug. 4 where he was one of the resource speakers.
"The RIMPAC has provided us the opportunities to check the ship, check the personnel, check the training that we have, and determine gaps from there and improve on the lessons that we got," he said in a statement released by the PN on Monday.
Villanueva also highlighted the importance of these training opportunities and the need to modernize the PN and make it "modern and multi-capable".
"After all, the Philippines is an archipelago and a maritime nation. We should have a strong Navy that can protect our vast seas," he added.
Aside from Villanueva, other naval officers who shared their insights during the IMSE were counterparts from partner nations such as Malaysia, Australia, South Korea and the United States.
Aside from providing resources and an environment for international participants to achieve their training objectives, RIMPAC is also an avenue for partner navies to discuss matters of common and shared interest toward sustaining regional peace and stability.
The RIMPAC, considered the world's largest maritime exercise, is held biennially to promote regional stability in the Pacific region.
About 25,000 personnel from 26 nations participated in the 28th iteration of RIMPAC, which was first held in 1971.
This year's RIMPACG began on June 29 and concluded on Aug. 4.
The PN's participation in RIMPAC 2022, themed "Capable, Adaptive Partners" is the third after its maiden participation in 2018 and its sophomore run in 2020.
In the 2018 RIMPAC, the Navy deployed the offshore patrol vessel BRP Andres Bonifacio (PS-17) and landing dock BRP Davao Del Sur (LD-602).
In the 2020 iteration of the maritime exercise, the PN sent the country's first missile frigate, the BRP Jose Rizal (FF-150).
Both the BRP Jose Rizal and BRP Antonio Luna are capable of anti-air warfare, anti-surface warfare, anti-submarine warfare, and electronic warfare operations. (PNA)