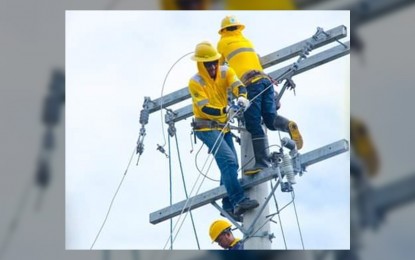 TACLOBAN CITY – The seven awards received by the Leyte II Electric Cooperative (Leyeco II) have inspired the power utility distributor to improve its services in this city and nearby towns.
Leyeco II general manager Fernan Paul Tan said Monday the cooperative received seven awards from the National Electrification Administration (NEA), making them the most outstanding energy distributor in the Eastern Visayas region.
"These awards are testament to the electric cooperative's untiring efforts in striving to serve the members as well as a reminder to continually aim higher," Tan said in a phone interview.
The awards garnered by Leyeco II include most outstanding electric cooperative award for having attained "AAA" rating in the 2021 overall performance assessment and successfully carrying out the mandate of rural electrification program.
Another award is the best electric cooperative in the region for its contribution to help sustain the "AAA" of all electric cooperatives (ECs) in the region in the past two years.
The NEA evaluates and determines the overall performance ratings of all ECs annually. The set of parameters are the following: financial (25 points), institutional (30 points), technical (20 points), level of electrification (20 points), and reportorial compliance (five points).
The "AAA" rating is the highest score given by the NEA to ECs that indicates the power distribution utilities' full compliance on all parameters. The D rating is the lowest.
The compact of cooperation award was also given to Leyeco II for its act in assisting other cooperatives rise again after the onslaught of natural calamities.
Leyeco II also received a distinction for its unwavering commitment and its efforts in promoting the best interest of its consumers through the rural electrification program.
"We are also recognized as sunshine electric cooperative for our resolute perseverance to bring electricity to a wider population within our coverage area by achieving 100 percent consumer connections, thereby uplifting the socio-economic condition of the people in the countryside," Tan added.
The consistent green electric cooperative was also bestowed to Leyeco II for its consistent compliance with the standards set by NEA.
Tan and Dalmacio Grafil, a member of the Leyeco II's board of directors, received the award during a ceremony on July 29 at the NEA building in Quezon City.
"The single-digit systems loss of the year contributed to the improvement of the cooperative's electric distribution system efficiency and reduction of power rate," Grafil said.
Leyeco II has more than 90,000 member-consumers in this city and the nearby towns of Palo and Babatngon in Leyte province. (PNA)