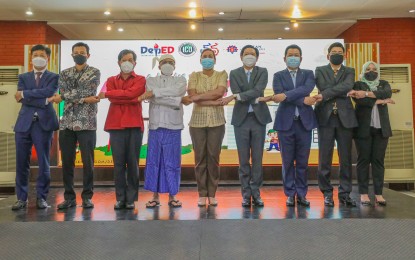 MANILA – Vice President and Education Secretary Sara Z. Duterte on Monday said it is high time for leaders to invest among the youth of the Association of Southeast Asian Nations (Asean) region to achieve growth and stability.
In her speech during the 55th Asean anniversary celebration at the Department of Education (DepEd) headquarters in Pasig City attended by members of the diplomatic corps, Duterte said supporting the youth will help realize the 2030 regional targets.
"As we endeavor to recover from the Covid-19 pandemic, our challenge is to figure out how to ensure that all of Asean will reach its potential by 2030. Your excellencies, I believe that we should focus on the Asean youth," she said.
She emphasized how quality education and regional collaboration amid diversity may help unleash the competence of the young people.
"One of the ways to involve the Asean youth is to ensure that they are equipped with the knowledge and skill set needed in a highly competitive environment. By strengthening intraregional scholarships and cultural exchanges between our countries, we will be able to increase the free flow of ideas, innovations, and skills," she added.
Asean Secretary-General, Dato Lim Jock Hoi, shared the same level of value for the youth, noting that regional integration will surely help secure a resilient and productive Asean community.
"We should pay particular attention to the region's youth initiative, such as the first Asean youth dialogue, as well as the Asean Junior fellowship program, which is part of our efforts to enable them to play a larger and more meaningful role in building a more equitable, inclusive, and greener community," he said in a pre-recorded video message.
Besides education, he also mentioned other key areas worthy of investment including global linkages, digitization, and human capital.
"We must also continue to improve our productivity and competitiveness in these new drivers of growth by investing in the region's human capital, and providing greater access to health, future-ready education, skilled training, and lifelong learning as well as a reliable social protection system," he added.
Learning Asean languages
Duterte, meanwhile, noted that while it is true that the Philippines has been competitive in providing English teachers across the region, learning each other's languages might actually deepen Asean ties.
"Asean languages may be offered in our schools and universities. While the Philippines has been sending English-language teachers to our Southeast Asian neighbors for years, I believe it is high time we encourage our youth to learn each other's national languages. With a collaborative and nurturing environment within our region, we allow our youth to grow and mature as Asean citizens while forging meaningful friendships and relationships with their Asean neighbors," she said.
In the end, Duterte stressed that the government has a very significant role to play to secure a stable, prosperous, and resilient future for the upcoming generation of leaders and the arising workforce.
She said preparing the Asean youth for the global demand is one of the regional leaders' responsibilities to fulfill.
"Governments play a central role in shaping the future of our youth, and with intraregional scholarships and cultural exchanges, we will be able to shape the future of Asean… The young people of Asean deserve a future characterized by stability, prosperity, increased mobility, and competitiveness," she said.
Asean members include Brunei, Cambodia, Indonesia, Laos, Malaysia, Myanmar, the Philippines, Singapore, Thailand, and Vietnam. (PNA)