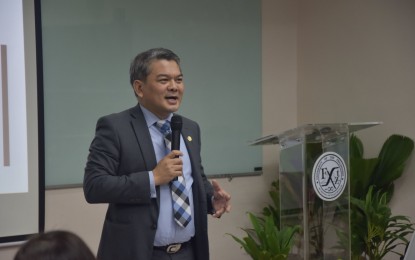 MANILA – The Philippine Statistics Authority (PSA) reported on Monday that the country's employment rate for June 2022 remained nearly the same as the 94.0 percent listed in May but higher than the 92.3 percent recorded during the same period last year.
Undersecretary Dennis Mapa, National Statistician and Civil Registrar General, said 46.59 million Filipinos who are 15 years old and above were employed in June 2022, higher than the 46.08 million employed in May.
With the unemployment rate also remaining the same at 6.0 percent, Mapa said it translates to 2.99 million unemployed Filipinos out of 49.58 million who were in the labor force in June 2022, lower than the registered rate of 7.7 percent in June 2021.
He said increased employment rate in the general public administration and activities subsector at 164,000 was recorded in June.
"Ang malaking nagdagdag dito ay isa 'yung (One of the big increase here is the) defense activities. Ito ay sakop ang (This includes) administration, supervision, and operation of military defense affairs; land/sea combat forces of Army, Navy, and Air Force reserve; and auxiliary forces of the Defense establishment. Ito ay may dagdag na 37,000. So malamang maraming nire-recruit 'yung ating Armed Forces na bagong mga sundalo (This increased to 37,000. So maybe the Armed Forces has recruited many new soldiers)," Mapa said in a press briefing.
Among the subsectors, Mapa also took note of agriculture and forestry (1.26 million); education (141,000); mining and quarrying (138,000); and other service activities (132,000).
The subsectors which decreased employment include wholesale and retail trade, repair of motor vehicles and motorcycles (minus 1.22 million); manufacturing (minus 101,000); accommodation and food service activities ( minus 91,000); transportation and storage (minus 90,000); and financial and Insurance activities (minus 55,000).
"The way I assess it, ito 'yung parang mga (this is like the) non-essential items na baka dahil nga siguro sa paghihigpit sa (that maybe because of the tighter) budget, ay medyo bumawas 'yung ating (we slightly reduced our) consumption dito kaya nabawasan din 'yung bilang ng may trabaho sa mga ganitong (here that is why the number of employed also decreased in these) subsectors," Mapa explained.
The underemployment rate in June 2022 was down to 12.6 percent from 14.5 percent in May 2022 which translates to a decrease of 780,000 underemployed persons from 6.67 million to 5.89 million.
Underemployment is defined as working at less than full-time or regular jobs or at jobs inadequate with respect to the training or economic needs. (PNA)