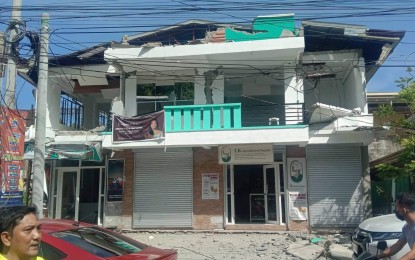 MANILA – The Department of Labor and Employment (DOLE) and the Technical Education and Skills Development Authority (TESDA) are ready to assist people in areas hit by the July 27 magnitude 7 earthquake in Northern Luzon.
Labor Secretary Bienvenido Laguesma said a joint memorandum circular (JMC) will be issued on the training-cum-production and emergency employment program of the agencies.
"It will assist severely affected areas in Northern Luzon, specifically CAR (Cordillera Administrative Region) and Region 1 (Ilocos) to rehabilitate the infrastructure, shelter, and cultural heritage of devastated communities, and implement emergency employment programs in affected communities to jumpstart their lives towards eventual normalcy," he said in a statement.
The DOLE chief added that at least 40 batches of 25 trainees from the hardest-hit municipalities in Abra, Ilocos Sur and Benguet will join in the pilot implementation of the project.
The project aims to build a pool of construction workers to be tapped by the local government units (LGUs) for repairs and rehabilitation of damaged facilities and installations.
"This will develop their skills and competencies in the areas of carpentry, masonry, electrical wiring, and plumbing," Laguesma said.
The project will be implemented in coordination with other national government agencies and local government units.
Based on the JMC, TESDA will provide skills training through its training centers and registered mobile programs, provide trainers for each identified qualification, and design short-term programs on critical competencies for each of the qualification areas identified.
The TESDA will also finance the initial stages of the skills training program, directly coordinate with the LGUs on projects that may be done using the training-cum-production scheme, and mobilize partners to assist in the program.
On the other hand, DOLE will assist identified beneficiaries of the program through the Tulong Panghanapbuhay para sa Displaced/Disadvantaged workers (TUPAD) by providing emergency employment for graduates of skills training particularly on the projects to be identified by the LGUs.
It will also provide assistance to the families of beneficiaries and implement livelihood projects to facilitate employment for displaced and unemployed persons within the project area and mobilize the construction sector to assist in the program.
DOLE regional offices in CAR and Ilocos have started the identification and profiling of beneficiaries of the special training program. (PNA)