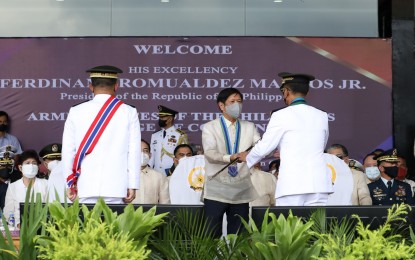 MANILA – President Ferdinand "Bongbong" Marcos Jr. on Monday sees a "stronger" Armed Forces of the Philippines (AFP) under the leadership of newly-installed AFP chief, Lt. Gen. Bartolome Vicente Bacarro.
"It is certain that we have chosen the right leader in General Bacarro to lead the AFP as it marches forward and undertakes a new journey that would eventually pave the way for a much improved and stronger AFP in the days ahead," Marcos, who is also AFP commander-in-chief, said in his speech during the AFP change of command ceremony in Camp Aguinaldo, Quezon City.
Marcos expressed confidence that the AFP will be a "reliable partner" of government under Bacarro's helm, especially in ensuring the country's peace, safety, and security.
"This has been long overdue. It is time to get to work and be the best that we can be in our respective capacities as public servants united in purpose and in deed," he added.
He said Bacarro's qualities such as his strong presence, administrative and operational proficiency, unmatched discipline, and unwavering commitment will be useful in his new job.
Marcos said Bacarro's journey as AFP chief-of-staff will "not be an easy one", but assured that the military will be there to support him.
"...With the AFP beside us assisting and putting in place the fundamental prerequisites for nation building, we shall overcome and emerge victorious in the end. Together, a meaningful change in the lives of many can be realized. I know that it can be done and that is why we shall," he added.
Malacañang announced Bacarro's appointment last Aug. 1.
Bacarro, a graduate of the Philippine Military Academy (PMA) Maringal Class of 1988, held various command and staff positions starting as a platoon commander, company commander, administrative officer, intelligence officer, operations officer, civil military operations officer, and secretary to the general staff.
Holding the rank of captain, he became the administrative officer at the Office of the Deputy Chief of Staff, and Office of the vice chief of staff of the AFP.
As an army lieutenant serving as a commanding officer at the 6th Civilian Armed Auxiliary Company, 21st Battalion, 5th Infantry Division, he was initially deployed in Isabela province at the height of a counter-insurgency campaign in the Cagayan Valley that lasted until 1995.
It was this tour of duty that earned him his Medal of Valor in 1991, the highest award for military combat in the AFP.
In 2014, he became the chief of staff of the Army's 4th Infantry Diamond Division. In 2015, he served as the Army's Assistant Chief of Staff for operations. From 2016 to 2018, he became commander of the 502nd Brigade, 5th ID, Philippine Army, and eventually the Commandant of the PMA before he assumed the position of AFP Internal Auditor from October 2020 to April 2021.
Aside from the coveted Medal of Valor, he also received five Distinguished Service Star, one Silver Cross Medal, two Bronze Cross Medals, two Silver Wing Medals, nine Combat Commander's Kagitingan badges, 36 Military Merit Medals, and the PMA Outstanding Alumnus Award in 1998, among others.
'True patriot'
Meanwhile, Marcos also thanked outgoing AFP chief, Gen. Andres Centino, a classmate of Bacarro in the PMA, for his exemplary service during the entirety of his tenure.
"To General Centino, much respect and admiration for all that you have done. Thank you for your excellent service. A well-deserved round of applause for the outgoing Chief of Staff General Andres Castor Centino," he said.
The President cited how Centino was awarded the prestigious Philippine Legion of Honor for his resolve to maximize the AFP's core competence focusing on operational efficiency, internal security, delivery of basic services, and the optimal use of resources.
"..He effectively managed the AFP by giving special credence and substance to competence, fair play, and justice in dealing with the ranks. Qualified personnel were selected for promotion. The placement of senior officers to key positions was deliberated upon. The AFP rotation policy was judiciously implemented," he said.
He described Centino as "a true patriot, a valiant soldier, an accomplished officer, a committed leader, and an exemplary public servant" for strengthening the AFP as a public institution while ensuring good governance.
Marcos said the outgoing AFP chief is also a source of "national pride" due to his unwavering commitment to excellence and duty which are duly recognized through the various awards and decorations that he has received throughout his professional career. (PNA)