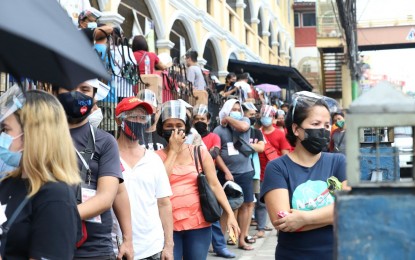 MANILA – The country's daily average of coronavirus disease 2019 (Covid-19) cases went up by 13 percent from Aug. 1 to 7, the Department of Health (DOH) reported Monday.
From 3,443 per day from July 25 to 31, the number of Covid-19 cases reached 3,904 daily from Aug. 1 to 7.
The latest case bulletin showed that there were 27,331 new cases and one verified death in the recent week.
For the same period, 76 cases were added to the tally of severe and critical infections, which went up to 772 from the previous week's 744.
Only 24.8 percent or 624 out of the 2,514 intensive care unit (ICU) beds are in use, while 30.9 percent or 6,648 of 21,548 non-ICU beds are utilized.
To date, about 71,898,721 or 92.06 percent of the country's target population (78,100,578) are vaccinated against Covid-19, including 77.90 percent of 8,721,357 senior citizens.
As of July 31, a total of 16,603,097 have received booster shots out of the total 71,898,721 who are fully vaccinated.
In a televised public briefing Monday, infectious disease expert Dr. Edsel Salvaña said there is no need to increase the alert level in the National Capital Region even though it has logged more than 4,000 confirmed cases in three consecutive days.
He noted that there are metrics to be followed in the Alert Level System for Covid-19.
"Unang-una, kapag umabot sa more than 50 percent 'yong ating healthcare utilization. At kahit umabot sa 50 percent, kailangan din nating tingnan iyong ADAR, 'yung (Firstly, the healthcare utilization has to exceed 50 percent. And even if it reaches 50 percent, we have to consider the ADAR, the) average daily attack rate, and this has to be more than 18," he said.
Currently, the region's ADAR is still below 18, he added. (PNA)