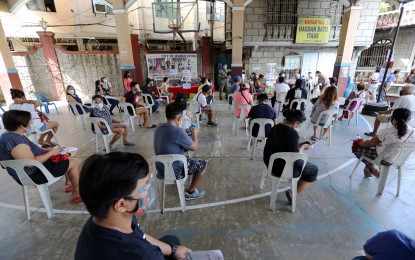 MANILA – A lawmaker on Monday recommended the increase in cash aid for beneficiaries of the government's Pantawid Pamilyang Pilipino Program (4Ps) from PHP2,000 to PHP3,000 due to inflation and the effects of the ongoing pandemic.
In his privilege speech during plenary session, Northern Samar Representative Paul Daza also called for the monthly release of the payouts instead of every two months.
"Prices had been going up. It's unfortunate that all countries are affected by the pandemic and then, recently, the war in Ukraine. More than ever, our poor needs better social safety nets," Daza said.
He also stressed that there should be due diligence in the delisting of 1.3 million families from the 4Ps, seeing the likely need to even add more in the list.
"Any delisting must go through a process of reassessment and social case management as set forth in the law," he said. "I agree that it's about time we do a thorough cleansing of the list. However, beneficiaries in 4Ps should not be reduced but instead increased due to an uptick in poverty incidence by 2.6 percent nationwide as caused by the Covid-19 pandemic."
According to latest government estimates, poverty incidence in the Philippines increased to 23.7 percent in the first half of 2021 from 21.1 percent in the same period in 2018. This means about 3.9 million more Filipinos are living in poverty.
He said taking into account this information, the country may be looking at an estimated 780,000 to a million families as new beneficiaries based on a four to five-member household. This is close to the number of families being targeted for de-listing.
He said the Department of Social Welfare and Development should be meticulous in the updating process as the law (RA 11310) requires rigorous steps in monitoring, validating, and updating the list of beneficiaries.
"The law also requires the setting up of a Joint Congressional Oversight Committee as well as an Independent Monitoring Committee to support the government in thorough monitoring of the program," he said.
Rule XXIII of RA 11310 states that the Joint Congressional Oversight Committee also referred to as 4Ps Oversight Committee is constituted upon the law's effectivity, which was in 2019.
"It's actually a good time to review the list since it's also been three years from the law's enactment. It's provided for in the law," he said.
"But to be fair, what the government has undertaken and is still undertaking in this pandemic is remarkable. Many countries suffered worse; I think we need to give credit where it's due. The Duterte administration's approach, which we hope will be continued under Marcos leadership, is people-focused and astute," he added. (PNA)