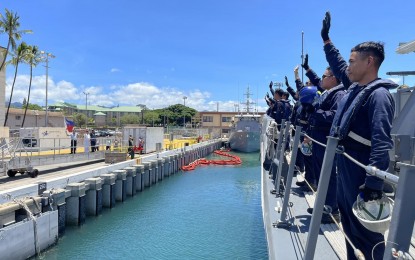 MANILA – The Philippine Navy's missile frigate BRP Antonio Luna (FF-151) is now headed for Guam after departing from Hawaii on Sunday (local time) after its successful participation in the recently-concluded "Rim of the Pacific" (RIMPAC) exercise.
"On the heels of its successful participation in the month-long RIMPAC exercise, the Philippine Navy frigate BRP Antonio Luna (FF151) carrying the Naval Task Group (NTG) 80.5 departed here Sunday, August 7," PN spokesperson Commander Benjo Negranza said in a statement Monday night.
The Filipino community in Hawaii along with Armed Forces of the Philippines liaison officer in the US state, Capt. Aldrin Doctor, gave the ship and Naval Task Group (NTG) 80.5, a rousing send-off.
"NTG 80.5 headed by Captain Charles Merric Villanueva is now underway to Guam for a brief layover before finally heading back to the Philippines later this month," the PN spokesperson said.
Negranza said the Filipino community in Hawaii took pride in the contingent's successful participation in the RIMPAC, which was highlighted by BRP Antonio Luna winning third place in the Naval Surface Fire Support (NSFS) "Rodeo" of the at-sea phase of the biennial naval maneuvers.
Around 17 ships participated in the event. The award was presented to the ship on August 4.
NSFS "Rodeo" is a naval gunfire accuracy competition where participants are given two-dimensional virtual land target information by the designated naval gunfire liaison officer.
"Participants have a practice run for gunfire correction prior to proceeding for the record firing. Performance reports are provided by the Pacific Missile Range Facility (PMRF) using its computerized evaluation system," Negranza earlier said.
The PN's BRP Antonio Luna made it to third place with only an eight-meter differential from the first placer USS Mobile Bay, and 4 meters off the second placer ARM Juarez of Mexico.
Negranza said the PN's participation in RIMPAC 2022, which ran from June 29 to Aug. 4, trumpets the command's commitment to promoting multilateral cooperation toward strengthening relationships and cooperation among regional and extra-regional navies. (PNA)