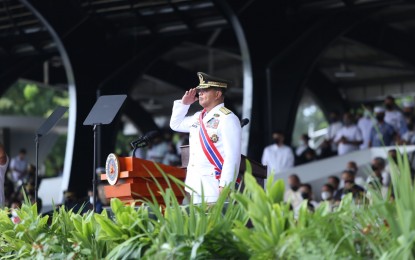 MANILA – The Armed Forces of the Philippines (AFP) paid tribute to its former chief-of-staff Gen. Andres Centino for his successful tour of duty which saw the implementation of four significant reforms.
"As AFP chief-of-staff, Gen. Centino implemented four significant thrusts in the AFP: operational efficiency, optimal use of resources, advancement of professionalism and meritocracy within the organization, and capability development," AFP public affairs office chief Col. Jorry Baclor said in a statement Monday night.
During Centino's tenure as AFP chief, he also enhanced the application of AFP's Joint Operating Concept which strengthened the interoperability of the Philippine Army, Philippine Air Force and Philippine Navy.
Centino, a member of the Philippine Military Academy (PMA) Class of 1988, took command of the AFP from Nov. 12, 2021 until Aug. 8 this year.
"Under his leadership, the AFP neutralized 1,391 communist and local terrorist personalities. The AFP was also instrumental in deradicalizing over 3,000 communist terrorists, dismantling 20 guerrilla fronts, recovering 1,600 firearms, and clearing 565 barangays," Baclor said.
Centino also pushed for the completion of capability development projects amounting to PHP37.6 billion as part of the modernization of the AFP.
Upon his retirement on Monday, Centino was awarded by President Ferdinand "Bongbong" Marcos Jr. the Philippine Legion of Honor (Degree of Commander) for his successful tour as military chief.
Centino previously served as Philippine Army (PA) commander, 4th Infantry Division head, 401st Infantry Brigade head, AFP deputy chief-of-staff for operations, or J-3, 26th Infantry Battalion commanding officer of the 26th Infantry Battalion; and Army General Staff secretary among others.
Centino was replaced by his classmate, Southern Luzon Command head Lt. Gen. Bartolome Vicente Bacarro.
Bacarro is a Medal of Valor awardee, the highest award for combat in the AFP.
The new AFP chief received his Medal of Valor in 1991 for his bravery in combat during a 10-hour encounter with 150 fully armed communist New People's Army (NPA) rebels in Maconacon, Isabela.
He also earned five Distinguished Service Stars, one Silver Cross Medal, two Bronze Cross Medals, two Silver Wing Medals, and other awards for his performance in various assignments in the past.
Bacarro also commanded the 2nd Infantry Division and the 502nd Infantry Brigade.
In 2014, he was designated 4th Infantry Division chief-of-staff and was also appointed as PA assistant chief-of-staff for operations or G-3, PMA commandant, and The Internal Auditor, AFP.
Meanwhile, the PA welcomed Bacarro's appointment as the 58th AFP chief-of-staff.
"As the first AFP chief-of-staff to be given a three-year term under Republic Act 11709, Lt. Gen. Bacarro will have ample time to institute reforms and strengthen policies that will steer the military, including our land forces, from transitioning into internal security operations to territorial defense," it added.
The PA said Bacarro truly embodies the PA core values of duty, honor and patriotism. (PNA)